What A Superstar
Here is a fine example to give you some inspiration. Let's face it, a note in all caps is going to mean serious business for whoever it's intended for. Sometimes, you just need to spell out the problem!
A Pinch Of Spite
While some people may turn to curse words and vulgar language in order to pass along a message stating someone acted wrongly, it is important to keep in mind that sarcasm could, most likely, work out just as well. We can understand the frustration of having to explain the obvious, such as why moving the trash cans away from their spot will result in the garbage truck not emptying it out, but it seems the recipient of the angry note got the message.
Nobody Likes You
As a political science graduate student from the University of Maryland, Meg has had her fair share of conflict resolving classes. She was well-experienced when it came to understanding and assessing the situation, which is why when she noticed this unjust act right on the street leading up to her home, she knew she could not just let it go without letting the lawbreaker get a piece of her mind. Whether she succeeded in making the poor parker understand his mistake – that is a whole other matter.
Grumpy Cat Don't Like You
You do not have to be a teen with a bookmark of 9GAG, the online platform with "user-generated content", to recognize the Grumpy Cat meme, as it is available on almost every social media platform out there. The person who wrote and drew this note is familiar with the Grumpy Cat persona, which is why they thought of using their drawing skills and creative capabilities to make the most of out the note they intended on leaving on the windshield.
Terrible Parking
Helen Keller was a deaf and blind woman who did not allow this to limitation her from earning a bachelor of arts degree. She was also an author, lecturer and political activist, so it is safe to say that calling someone by her name as an insult is probably anything but. The accomplished woman might not have been able to drive on account of being blind, but leaving a note like this is simply tasteless, no matter how bad the parking was.
Personalized Spot
What better way to make someone understand that they are not special and therefore do not require a special parking spot than drawing one out for them? Clearly, the person responsible for the chalk outline believes there isn't one. The driver of this grey car most likely had issues staying within the lines when given a coloring book as a child, and never quite learned how to do so. It sure can be infuriating looking for parking for hours, only to come across something like this.
What A Jag Off
We are going to assume that the car parked there was a Jaguar since the note reads "Thanks for parking so close Jagoff," but the truth is that the message was already loud and clear when the pun-loving writer decided to use a hygienic pad instead of a piece of scrap paper. It was unnecessary to convey the message this way, but the fuming individual probably did not have paper and felt an undeniable urge to share her feelings.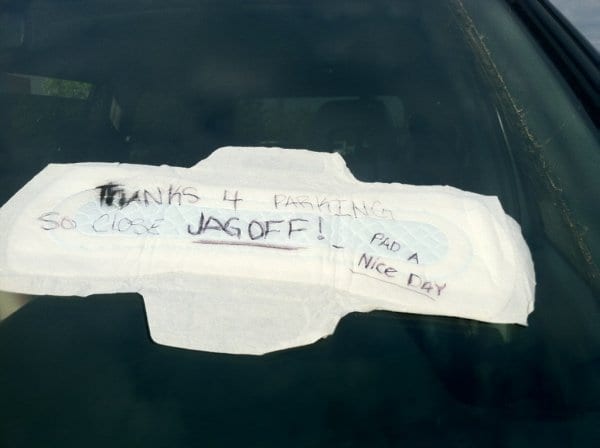 Rich In Parking Spots
There is no shame in having a fancy car – if you have worked hard and saved up in order to be able to afford such a luxury, you should not feel embarrassed of what you have accomplished. However, just because you were finally able to purchase that shiny pair of wheels you have been dreaming about since you were a child, there is no need to behave in such a manner that would make you into the stigmatized selfish individual who could not care less about others.
Come On Dogg
This message makes it sound as though multiple messages have been left for the driver of this car, but alas, no response or shift in behavior was made. It is very irritating to have a parking spot marked as your own, whether at work or your home, and have someone rudely ignore the clear sign saying the parking is reserved. Perhaps the best thing to do is leave a note for the intruder, but if all fails, we can understand this end result.
Sincerely It Is
It is exasperating and aggravating having to drive somewhere and being unable to because someone was rude enough to block your driveway. It is common for drivers who had to make a quit pit stop and found no parking to block others but leave a note with their number on their own windshield – that way if whoever they are blocking needs to get out, they can call the owner of the car blocking them and ask that they would move their car.
All Of The Above
Someone has obviously been on the receiving end of too many unfortunate parking situations, so he decided it was about time he did something about it instead of simply letting it slide. Therefore, he printed a massive amount of cards for poor parkers who needed to be notified about what it is about their parking that they need to pay closer attention to, or work on. However, the fifth box does not really leave room for improvement driving-wise.
Who Parked Like A Jerk? Meme Me!
Wikipedia defines the word meme as "an idea, behavior, or style that spreads from person to person within a culture – often with the aim of conveying a particular phenomenon, theme, or meaning represented by the meme." This particular meme of "Y U NO" Guy uses carefree grammar as a technique to bring someone's attention to a particular issue, just as seen in the note left in the picture below, reading "Y U NO park in a designated space?"
Hope That's Peanut Butter
Smearing turd on the windshield of a car parking in an inconsiderate matter might be less expensive than getting it towed, as said in the message spelled out, but that it is definitely more disgusting than calling a professional and asking him to move the car. It is all about priorities at the end of the day, but we would much rather leave a note asking kindly that the person would not park there any more than having to handle the next door neighbor's dog's excrement.
Potato Clan Is P*SSED
It is a little hard to read, but the sign states: "You've angered the potato clan with your parking choices! If you park in their space again they will bring out their produce army!" Needless to say a lot of effort was put into carving these potatoes, so someone either had a lot of time on their hands, or they found this form of exercise the best one to relieve themselves of the stress and anger that were formed in this situation.
It's That Simple
"Brace yourself, Winter is coming" is not just another alarming phrase or word of advice from the well-known series Game of Thrones, but it also applies to those who spend a lot of time on the road. Considering the thin sheets of ice forming, snow dropping as fast as temperatures and mounting up to form small, deadly hills, it is important to slow down and keep high alert during the colder seasons. Just like whoever left this note – they made sure to keep their cool despite the annoying parking.
Merry Christmas, J*rk!
Greg knew that his wife, Sarah, was about to arrive after picking the kids up from school. It was a particularly snowy day, which is why, despite being sick, he went out of his way to shovel the parking spot outside their home. With a high fever and sniffling nose he walked out the door and shoveled the snow away, but when he was done and returned home to wait for his family, he noticed a Hyundai was already parked in the spot intended for Sarah.
No Mixed Messages
Sometimes there is no need to elaborate or go into great detail when leaving a message – it is actually better to be straight and to the point, that way the request (or demand) is loud and clear and there is no room for confusion. Whoever left this note did not feel it necessary to add a polite "please", which is understandable since they went out of their way and put up that sign in the rain, just so the owner of the car would be more aware of its actions.
Mr. T-Rex
Signing the letter off as Sir Tyrannosaurus Rex does not really fit the rest of the tone of the letter, but it goes to show that whoever wrote the note clearly has a sense of humor and is not afraid to let their childish side pop out every once in a while. However, reading the rest of the letter, a different vibe is given, as the text written sounds very official. Someone clearly made an effort to sound civilized in that letter of complaint.
Justified
There is no excuse for parking in front of someone's driveway, but there is also no need for that sort of language. In general, we find it better not to be quick to jump to conclusions and realize that sometimes the unexpected can happen. Who knows? Perhaps the person who parked their car their had some sort of a personal emergency that made them park there. In any case, a more polite note could have been left on the windshield.
Park Well Maybe
It is hard to forget pop star Carly Rae Jepsen's hit "Call Me Maybe?" and the hilarious music video that featured it, but it was all the rage back in 2012. The angry person who had enough of the person parking in a way that blocked their driveway decided to make their own rendition of the song, so they expressed their anger through this windshield complaint. It is funny how a positive thing, like a song, can quickly turn into a negative warning.
Oh So Gentle
As though the number of F-Bombs in this windshield note is not enough to stress out how annoyed the person who wrote this note is, there is the occasional threat to key the car in case its owner does not take better care of the alarm – or rather, turning it off. It is highly frustrating to wake up in the middle of the night because your neighbor's car alarm keeps going off, so we are going to guess this note was written during one of those enraging times.
Stop Ruining My Life
It seems like this poor guy has had enough of the tickets he has been given for parking in a spot reserved for those who have a particular sticker, and saw no other way of explaining his situation than leaving a pleading note, begging that whoever is handing him one ticket after another would show a little mercy and understand some things are simply out of his hands. The traffic control officer might, however, see this as a request for special treatment and fine the guy twice as much.
Poor Stevie
Musical legend Stevie Wonder might not be able to use his eyes for seeing, but where there is a lack of visibility there is a huge talent and a big heart. It is distasteful that his name was used as the foundation for a mean joke targeted at someone who parked in a far less than accurate manner, so it is safe to say we are not keen on this note writer getting their way, despite them not being in the wrong.
What A Jerk
Parking in a handicapped spot is not only unkind and selfish, it is against the law. There is a reason there are designated spots for those who cannot walk great distances, and by parking in their spot you are making the life of those who are physically limited a lot harder. It is already bad enough as it is that they are restricted to depending on elevators and assistance from others to go about their daily routine, so the least we can do is our part to help out.
Resort To Public Transport
Someone thought it would be wise to make cards reading "people like you should take the bus," continued by "please, learn to park." In all fairness, we can understand why people would distribute such cards if someone parked in a way that would either block another or be dangerous for others driving by. So if you received a note like this, perhaps it is time to stay clear of the steering wheel for a while and give public transportation a go.
Who Even Are You?
This sounds like Liam Neeson himself wrote this note, as it reminds us of the monologue in the film Taken. Whoever wrote this note definitely watched the movie way too many times and knows the infamous speech by heart. Of course, in the movie, Neeson is threatening those who kidnapped his daughter, and parking with poor skills is not nearly as bad a the former, but as he said, he will find you – and he will box you in.
Honorary Member
Joining a club is usually a positive thing – after reading about its activities and find that you want to be a part of the group participating, you hand in your application and hope for the best. However, the owner of this Beetle did not want to become a member of the "Park Like An A**" Club, let aloe an honorary one. In order to withdraw his candidacy, he needs to learn how to park better and stop getting in everyone's way.
Worst Neighbor Award Goes To…
Whoever is responsible for this note needs to decide on a set tone, since we were left confused with the intention of this letter. On one hand, the person who wrote it explains the issue – the alarm has been going off all night – and explains that while it was irritating, they had the same problem so they understand and don't hold a grudge. On the other hand, the writer curses the car owner and grants it the Worst Neighbor Award of 2015.
Office Joe
The person responsible for this note took the time to illustrate themselves sipping a cup of coffee, as if to suggest they are just your average Joe, going about their daily lives and working at an office job doing 9 to 5 and kindly asking that you would park in your own spot. Although this is not exactly a work of art, it does get the point across. After all, we would all rather be sipping iced coffee at the beach instead of having to deal with struggles like parking.
It Was For The Fam
Shoveling snow for hours on end is frustrating, hard, and physically straining. While people who live in places where temperatures drop below zero and are prone to snow are more accustomed to the mundane task that those residing in sunny California, this does not mean that once completing the task and finding another car parking in your hard-earned spot, you are likely to shrug the matter off. This guy should have known better.
Sincerely, Everybody
Sometimes the best things to say are the simplest ones, as suggested in the picture below. The girl seen holding the sign had enough of poor drivers and decided it was time to speak her mind, which is why she drew up this note and placed it on the windshield of her latest subject of abuse. After all, he should have known better and foreseen the fact that if he is going to park his car in an obscene way, he is going to be told off.
Touché
This sign is slightly less sensitive than the rest, despite the fact that some of them use crude language and went for the personal attack. This sign, on the other hand, went with a different strategy and referred to the natural disaster of Hurricane Katrina, which resulted in many deaths and horrible tragedies. Although it sounds slightly like a dad joke, we would be more careful with our choice of words and puns next time we would consider printing out a sign like this.
Ice Cream Melted, Day Ruined
This note tells one of the most tragic stories on this list. Someone was enjoying their Saturday and had just bought ice cream for all the family to enjoy. But then, the carrier noticed that someone had double parked their Nissan Altima, forcing them to park two blocks away. Needless to say, once he had arrived at his destination, all the ice cream melted. Some people just don't realize the pain they cause until they are told afterward.
Reserved!
Kindness is a two-way street – although those who show mercy do not necessarily expect it from others, as they act in a way that is considerate of others for the sake of doing something right, it is only fair that the same approach would be given in this case scenario. Although this time the writer of this note did not call for a tow, if the perpetrator would ever repeat the offense of parking in his spot he would carry out the ultimate revenge – so he has been warned.
Nut Stamped
This writer definitely has a little creative spark left in them, despite having to deal with the enraging issue of having someone park so close to their car that they were unable to drive off to whatever destination they were heading towards. The sarcasm in the "dear concerned citizen" opening is also highly felt so there is no room for confusion there. Although we would have altered the words used to convey the message slightly, the message still came across loud and clear.
Dear Sir, Please Stop
Using the term "bloody sardine" immediately suggests that this picture was taken in England, as that is the term many British people use, and is not as common within the American language. The slang might be foreign, but there is no confusion as to what was the problem that caused this person to write such a note – someone had blocked him in and parked in a way that made it hard for him to fit into his car.
Just Too Tired
Lucy had just come back from her shift at the hospital. Being a single mom of two kids, she depended on her mother to help her out and watch the kids whenever she had an all-nighter. However, this time around Lucy was able to get off work early and spend some time with her family, which is why she was so grateful when she drove up her house's street around 6 pm – however, she then found someone blocking her driveway and ended up circling the block for another hour.
Sorry Not Sorry
You get what you deserve, and that is the rule of Karma. As a way to prove the notion that what goes around comes back around, the person who wrote this letter accidentally scratched and put a dent in another's car – but it was not on purpose. This was not a malicious revenge job, but rather, the writer of the note simply tried to park their car after the now-dented car's owner rudely took up two spots in order to park theirs.
Thanks But No Thanks
Although this is not a note that was left for someone who parked badly, it is still worth mentioning as this is absolute gold. Although it is slightly harder to read, the note reads: "I have nothing of value in my car, but thanks for checking anyway." This car owner had people break into his car one too many times, and he was fed up with having to fix the broken window – so he ended up leaving this note instead.
Schooled!
Our first guess is that whoever took the time and effort to make this graph and print out this letter was most likely an educator of some sort, since whoever parked in this rude manner just got schooled! Their wrongdoing in not only explained and elaborated in great detail, but the way in which to "get it right" is also provided, so that no excuses would be given next time around. The thorough way of rectifying the problem is epic, nonetheless.
Itsy Bitsy Turtle
When things get a little too difficult to explain, it is best to go back to basics and approach the matter in a different way. Explaining what is wrong the same way over and over again is not only unhelpful, but it defeats the purpose as it makes both sides frustrated with the lack of communication. However, this letter attached to the windshield is not so much a kind gesture as it is a condescending message.
You've Been Served
Now here is a business card you would not expect to find on your windshield! Usually, when someone leaves their information in the form of a business card on your car it is either because they want to buy it – or they dented your car and are leaving their information so that their insurance could pay for the damage caused. However, this card not only does not serve either purpose, but it also leaves no contact information. It simply tells off the driver for their parking.
Autobots Unleashed
You have to know your audience when addressing a certain matter if you want the message to come off loud and clear, and the writer of this funny note obviously expected whoever was reading it to know who the Transformers are. If the name Optimus Prime does not ring any bell, a person receiving this note will surely look it up on Google once coming across this letter. Watching the movie is also highly recommended in order to fully comprehend the context of the note, too.
Hiya
A quick look at this note from afar would make one think that an ad was placed on the windshield, or that a kind message was left, at the very least. The last thing anyone would expect from a card reading the word "Hiya" in bright green letters is that it would be offensive, but once reading on, the true message is revealed: that you are being blamed for being selfish and thinking that the world revolves around you.
There Is Right And Wrong
Parking lessons are something that not a lot of people put effort into, thinking they are kings of the road that do not need much practice, guide or assistance. However, a quick look at parking lots around the country would reveal a different truth – that people think they are much better at parking than they actually are. This illustration, if anything, is a clear-cut example of how people usually approach parking, versus how they should.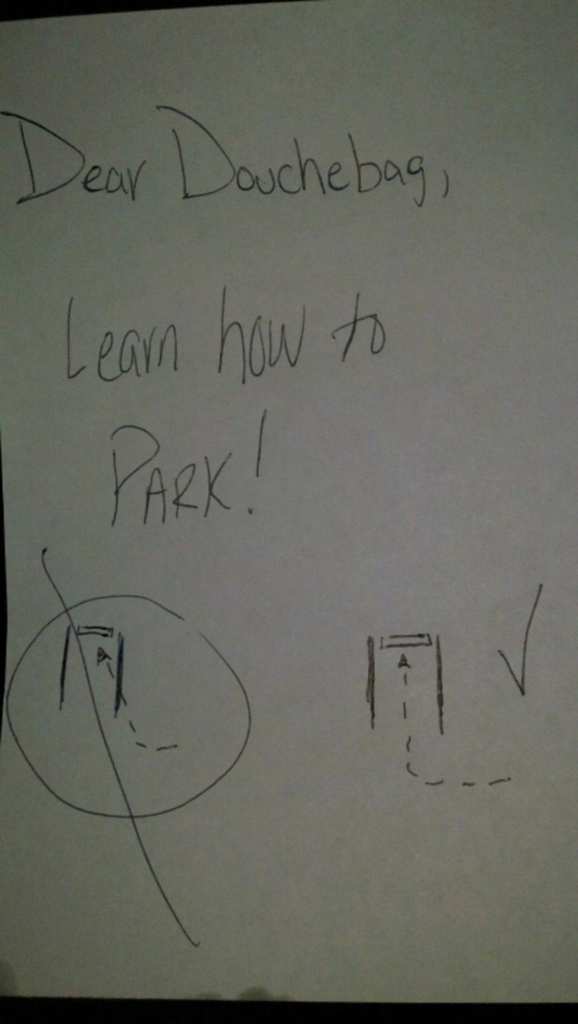 Parking Party
If you are going to bring politics into a situation such as bad parking, you know things are about to get real. To be fair, it does not have to do with Republicans or Democrats – if you are a good driver and considerate of other people as a human being, that is all there is to it. So unless a study will reveal a direct correlation between those who vote for one party and their parking abilities, we are going to assume politics are irrelevant.
Inconsiderate Sir
Using foul language is not beneath the woman who wrote this note, which is why her choice of words included the phrase "piece of s**t Chevy." Instead of stooping down to the level of the person held responsible for the bad parking and taking up two spots, she decided to leave a note saying that it would be "greatly appreciated if you only took up one." The note about her Ford being a better vehicle than his Chevy, on the other hand, is just for spite.
Lather, Rinse, Repea-heat
Forget parking lessons, this person needed to jog their memory when it came to driving jargon altogether. After meticulously detailing the problem with the parking the person has made, he proposed a solution to the problem. However, a peculiar sentence at the bottom of the page makes us wonder what the intent was, reading: "By the way – Showing is 'Lather, Rinse, Repeat.'" While we have absolutely no idea what this means, we can only assume the two drivers are romantically linked.
(Un)friendly Neighborhood Watch
We are not sure why the girl in the picture is laughing – if the role was reversed, we sure would not feel comfortable having a smile on our faces knowing that our neighbors hate us and think we park in an inconsiderate way. The sign reads "Hey, I don't know you, and this is crazy, but there are a million spots [to park], so pick one, maybe?" which is a hilarious reference to the Carly Rae Jepsen song, "Call Me Maybe."
You Can Run But Your Can't Hide
There is nothing more irritating than coming back to your car after parking it in the street outside your home for the night and finding out it has been hit while you were sound asleep in your bed. In case something like this occurs, and mistakes do happen, it is common courtesy to leave a note with your details so that you can be contacted later on for insurance reasons. This person witnessed a crime committed and decided to do the good samaritan thing to do.
Some Things Are Better Off Unsaid
Unlike the other pictures and examples we have seen, this note was actually written by the owner of this car, who urgently had to go to the bathroom. You know what they say – when you gotta go, you gotta go – and the driver of this car definitely had to go. While we understand the need to put up a sign so that you don't get fined, it is still not necessary to have written proof of where you have gone off to.
Revenge Is Best Served On A Yellow Slip
Seeing a yellow piece of paper flapping in the wind while attached to your car's windshield is probably the most alarming sight – after being towed in front of your very eyes. Since this girl parked in a place that was rude and inconsiderate of others, she practically had a note on the windshield coming. However, whoever came up with this yellow slip idea is either pure genius, or pure evil. Either way, this is a comeback from hell.
Game Of Parking
Instead of risking spoiling Game of Thrones for those of you who have not had the time to catch up with the books-turned-TV series that has had almost every individual on the planet with access to a television sitting on the edge of their seat for the past few years, we will simply explain what the note means. The Lannisters are known to execute those who get in their way, and so this note is a clear warning for whoever parked the car to watch their backs.
When In Doubt
After a weekend that has gotten out of hand in Vegas or making too many calls that felt like bad judgement, many people turn to their spiritual guiders for help and reassurance. It is not uncommon for individuals to seek answers elsewhere when they feel lost, which is exactly what the intention was behind this note. Whoever wrote it wanted the person who parked so badly to reflect on their actions and think twice before parking so inconsiderably next time around.
Are You Kitting Me?
When you are hungry and have been deprived of food for a while, it is impossible to imagine how you would react once coming face to face with a tasty treat. Although there is no legitimate reason to ever break into someone's house or car or take something that is not yours, we still feel bad for the person who wrote this note. Clearly, they had no malicious intent to steal something high of value – they just really wanted that Kit Kat.
The Mean, Green, Mystery Machine
If you cannot afford a fancy car but still need a vehicle to get around from one place to another, there really is not much else you can do than either stick to public transportation, or buy a beat up old car. The owner of this "creepy van" resolved to the latter solution, but the last thing he would have expected was to receive a note like this on their windshield. It's not like he'll upgrade his car just because someone else doesn't like the way it looks.
Music To His Ears
Sadly, news have been reporting stories of people who left their pets and babies in cars under the scorching summer sun with no air to breathe or way to cool off. More often than not, these situations end in the worst possible ways, which is why people were instructed to break the car window if they come across a poor soul stuck inside. The owner of this car anticipated the angry animal rights mob's action, so he put up this sign for reassurance.
Game Of Parking
Instead of risking spoiling Game of Thrones for those of you who have not had the time to catch up with the books-turned-TV series that has had almost every individual on the planet with access to a television sitting on the edge of their seat for the past few years, we will simply explain what the note means. The Lannisters are known to execute those who get in their way, and so this note is a clear warning for whoever parked the car to watch their backs.
Let's Play A Game
If you have not seen the blockbuster film Saw and its sequels, you know what is on your to do list for next Halloween or spooky movie night. We hope the person who parked this car has seen it, otherwise a perfectly good warning and reference was wasted on someone who would not get the message. Since the main character in Saw is a psychopath who enjoys torturing strangers, we would be very careful if we were the owners of this car.
Grammar On Point
No, this is not a Dr. Seuss rhyme. The person responsible for this note is a genius when it comes to writing out its thoughts and internal debates since it managed to do the seemingly impossible – make whoever received this note, which was attached to the windshield, crack up with laughter but also understand that they have acted in a way that was not considerate of other people. This is the best way to make sure the message is understood, as it doesn't upset the driver responsible.