Many happily married couples long for the day when they'll be able to have children and build a family together. Matt Logelin and wife Liz had spent a long time trying to become parents. However, things went very differently from the way they planned…
High School Sweethearts
Even since meeting at high school in Minnetonka, Minnesota, Matt and Liz knew that they would develop into something serious. However, they could never have anticipated what the future had in store for them.
Jet Setting Romance
Amazingly, despite being in a long-distance relationship for over four years after graduating from high school, Matt and Liz were able to make it work. While Matt stayed in Minnesota to study, Liz went all the way to California. This didn't stop the happy couple from embarking on a number of big trips to many awesome locations. They loved going on adventures together. However, the best one was when Matt proposed to Liz in Nepal, shortly after a year-long trip around India.
Opposites Attract
Not only did Matt and Liz know that they were made for each other, but so did their friends and family. They were a successful couple and were also successful individuals. It seemed like it was a classic case of "opposites attract," especially since Matt was the more reserved of the two, working at an Internet company. Then there was wife Liz, who worked as a senior level executive at Disney! As different as they were, it was a perfect balance.
Picture Perfect
Of course, Liz was so excited to finally tie the knot with the love of her life. She made sure that her special day was absolutely perfect. Seeing that she was quite the perfectionist, it just made sense that she would be the organizer while Matt just took a step back and watched her do her thing. On August 13, 2005, the couple finally got married and was surely the start of a long and successful marriage. However, everything would eventually change…
Settling In
In order to make things as easy for his wife as possible, Matt decided to pack up his bags and join her in California. Liz was unable to relocate since her job at Disney meant she had to stay in the Golden State. Seeing that Matt was in high-tech, this meant that it was much easier for him to relocate while holding down the same job. It wouldn't take long before Matt settled in California and the couple could enjoy their marriage.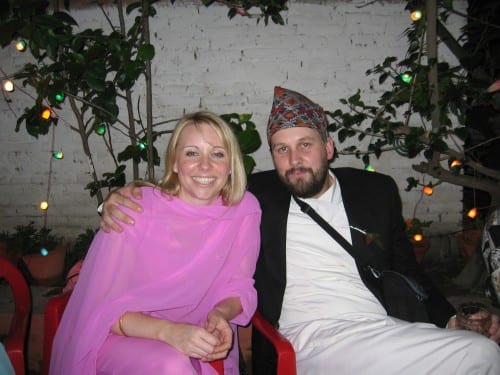 Bun In The Oven
Matt and his wife Liz had been married for two years. At that point, Liz revealed to her husband that she was carrying his child! After being with Liz for over a decade, he was thrilled at the prospect of having a baby with her. The couple were ready to be parents. One thing was for sure; Matt knew that he was with the right person to become a father. "I always thought I'd be a good parent alongside Liz," he said.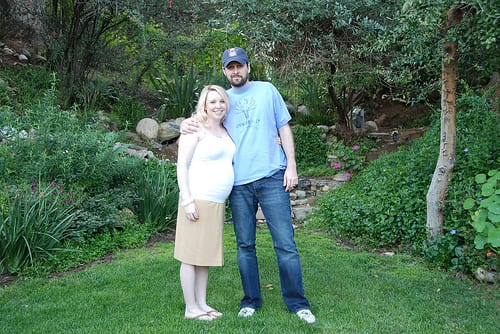 Trouble In Paradise
Despite the thrill of knowing that they'd have a child together, Liz's pregnancy turned out to be much more complicated than previously anticipated. At the early stages, Matt's wife suffered severe nausea, which affected her everyday life. Liz was adamant that she wanted to carry on working during her pregnancy. However, her doctors advised her to rest, especially after her nausea. Despite resting, Liz was soon taken to hospital when she was taken care of under medical supervision.
Unexpected Complications
Matt knew that his friends and family would be concerned about his wife's wellbeing, so he decided to write a blog to keep them updated. However, he would, unfortunately, have to share some bad news. The baby would need to be delivered 7 weeks prematurely after Liz was forced to undergo an emergency C-section. Upon being born, Madeline was rushed into intensive care. All that Matt could do was remain optimistic that both his wife and newborn baby would be healthy and safe.
Storm Clouds On The Horizon
Given that Liz gave birth to her baby via an emergency C-section, it took her a day before nurses thought she'd recovered enough to see her premature infant in the Intensive Care Unit. Though Liz had always been healthy prior to her pregnancy, she discovered that surgery had taken more out of her than she'd expected. As she prepared to take her first steps, she found that the room began spinning the minute she stood up. Matt felt a sense of foreboding about Liz's health.
Out Of The Ordinary?
As Liz was trying to get settled into the wheelchair, she ended up fainting into the chair. Matt's worry only continued to rise as the nurses seemed to disregard the event, waving away Liz's fainting spell with "It happens all the time." Despite their soothing, Matt felt in the pit of his stomach that something was definitely wrong. Within minutes, his hunch proved to be correct as he was pushed out of the room as doctors came running in.
A Living Nightmare
Though he couldn't have said what the problem was, his gut feeling would prove correct. The doctors discovered that Liz had fainted because of a pulmonary embolism, a series condition meaning that a blood clot had entered her lungs, a medical event that often proves fatal. Matt described the terrifying moment in an interview, saying, "All of a sudden it hit me. She was going to die, today, here in this hospital. And she was never going to hold her baby."
Conflicting Emotions
Minutes later, Liz was officially pronounced dead, only 24 hours after the birth of their daughter, whom they'd named Madeline. Matt found the accompanying emotions to be overwhelming, as the joy that his daughter's birth should have brought was crowded by the grief he felt as he lost his high school sweet heart. Now, Matt was suddenly faced with the task of raising his daughter alone, on top of his grief. "Doing it alone had never occurred to me," he shared.
A State Of Shock
The experience Matt went through that day can be tough for anyone to comprehend. The birth of a first child is a milestone in and of itself, but coupled with the loss of his one love within the same day was something Matt could hardly grapple with. His friends and family rallied to his side, but even with their many offers, Matt still felt utterly alone. He revealed that in his darkest moment, "he thought dying himself might be the only way through his pain."
Holding It Together
Even as Matt struggled to stay afloat and cope with the demands of being the father to a newborn and a widower at the same time, he knew that he owed it to his daughter to learn to manage his emotions. Madeline may have lost her mother without ever having been held by her, but she didn't deserve to lose her father too. "The thought of our child as an orphan turned my stomach, and I hated myself for even thinking something so selfish," Matt explained.
Seeking An Outlet
As the bottled emotions continued to build up inside Matt, he knew he needed to find an outlet. His breaking point came when a woman asked him, "Where's Mommy?" Though he might have been in far off Los Angeles, Matt turned to his hometown for helping. Posting in a forum for parents via the Minnesota Tribune, Matt wrote, "I'm a proud new father … doing it on my own (my wife passed away the day after our baby was born). It's been a tough two weeks."
Alone No More
Matt's post was discovered by the forum's moderators who were touched by his plight. They asked him privately if he'd be interested in doing an interview about his situation with the paper, which Matt agreed to. He sat with the reporters when he flew back to Minnesota for his wife's memorial service. The headline that ran, "Without Liz, but not alone" won Matt a string of virtual attention as his story resonated with a vast number of readers.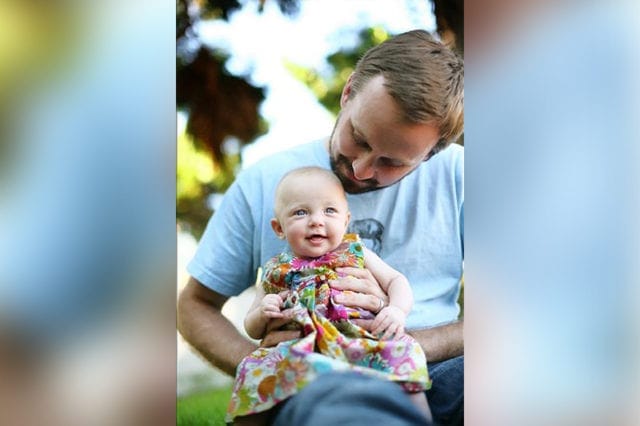 International Condolences
Matt's blog might have been started as a way to send news about Liz's pregnancy to their friends and family, but after the newspaper article, Matt found an endless stream of readers visiting his page. From a small time blog, Matt suddenly found that more than 50,000 people were coming to his site per day. Matt began healing as a result of the sheer number of people who stopped by to let him know they cared. Matt couldn't have known what the blog's legacy would become.
The Kindness Of Strangers
It was not long after that Matt started to receive highly practical correspondence from readers and not just sympathetic messages. Mothers reached out to Matt to give him helpful advice, and many people, who had sadly lost spouses themselves, also began to reach out to Matt. It was these widows and other readers who eventually helped set up a donation blog which hoped to send Matt things which he said he "never would've known I'd need." These included formula measuring dividers and nail clippers fit for babies.
A New Journey
The donation blog reached far and wide, and Matt's story was warming the hearts of millions around the world. Not only were these readers helping Matt with helpful recommendations and suggestions, but they were giving him that extra boost of confidence to start his new life. Before Matt and Liz were married, they traveled in India, and Matt felt like it was the perfect place to write his autobiography. He quit his job and, along with his two-year-old daughter, off they went.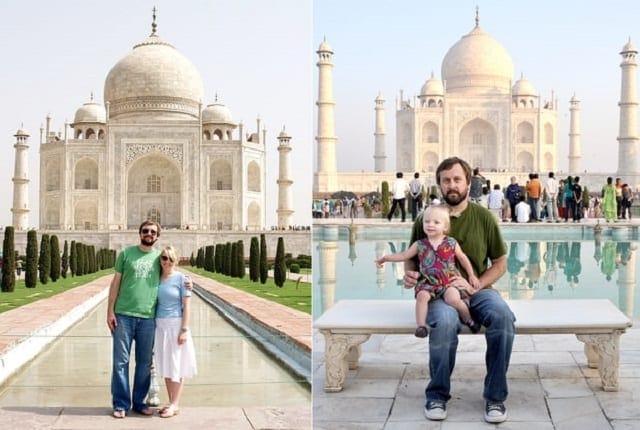 The Book
Matt's autobiography covered the horrifying moments of grief following his wife's death, but the book also served for so much more. Speaking of his book in a 2009 interview, Matt said, "Figuratively speaking, [the book] is my Taj Mahal to her. I'm doing what I can to bring that legacy back for her." Matt certainly set out for what he had hoped since his book was a huge success and even made it to the New York Times Bestseller list for over a year!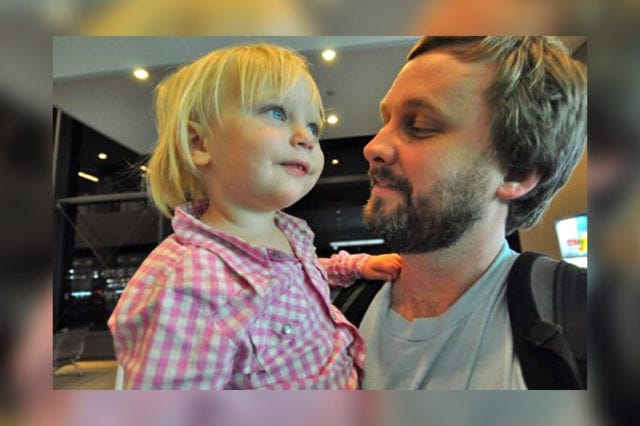 The Big Screen
Just as the book was proving to be a huge success, it also caught the attention of some powerful people in Hollywood. Matt was soon in talks with Marta Kauffman, the creator of the hit TV series Friends, who was interested in turning his book into a Lifetime TV movie. However, one A-List star wanted to do one better and approached Matt in hopes to turn his book into a big screen movie. Allegedly, negotiations are still in place, but no further detail has been given.
Liz Logelin Foundation
The modest midwestern Matt was not going to let Tinseltown get to his head following the success of his book, and was never forgetting the tragedy that earned him his star status. It was with this in mind that Matt started a foundation in honor of his late wife, which he named, the Liz Logelin Foundation. Matt's intent in setting up this charity was to help all children who have lost a parent, and the charity will have a star-studded gala every year to raise money for the cause.
Camp Widow
While he had one foundation set up to help children who had lost a parent, Matt continued to want to give back. He then founded Camp Widow, a retreat specially designed for the surviving parent. The pressures of life after losing a husband or wife can be pretty daunting, and the camp is to provide a small break from daily life. It also gives widows the opportunity to meet others in a similar situation to them, of which Matt knows how important that is for the healing process.
Selfless Man
Matt has written a book, as well as, given massive contributions to charity. However, this is not enough for the man who is passionate in helping others in a similar situation to himself. He has gone on to speak to the media about the dangers or post-partum women, and life as a single father. He also spoke at the National Conference Widowhood, and his essays have gone onto be featured on the radio show, Voice of America's Healing Grieving Heart.
A Bright Future
Maddy unfortunately never got to meet her mommy, but it seems as though she has inherited her beautiful looks. As well as looking the spitting image of her late mother, Matt also says she's an inquisitive nine-year-old who is not shy to ask her father about his life with her mother. He says she is full of questions and asks whatever she wants to know, meaning she is full of endless questions. Fortunately, Madeline has a loving dad by her side for every step of the way.