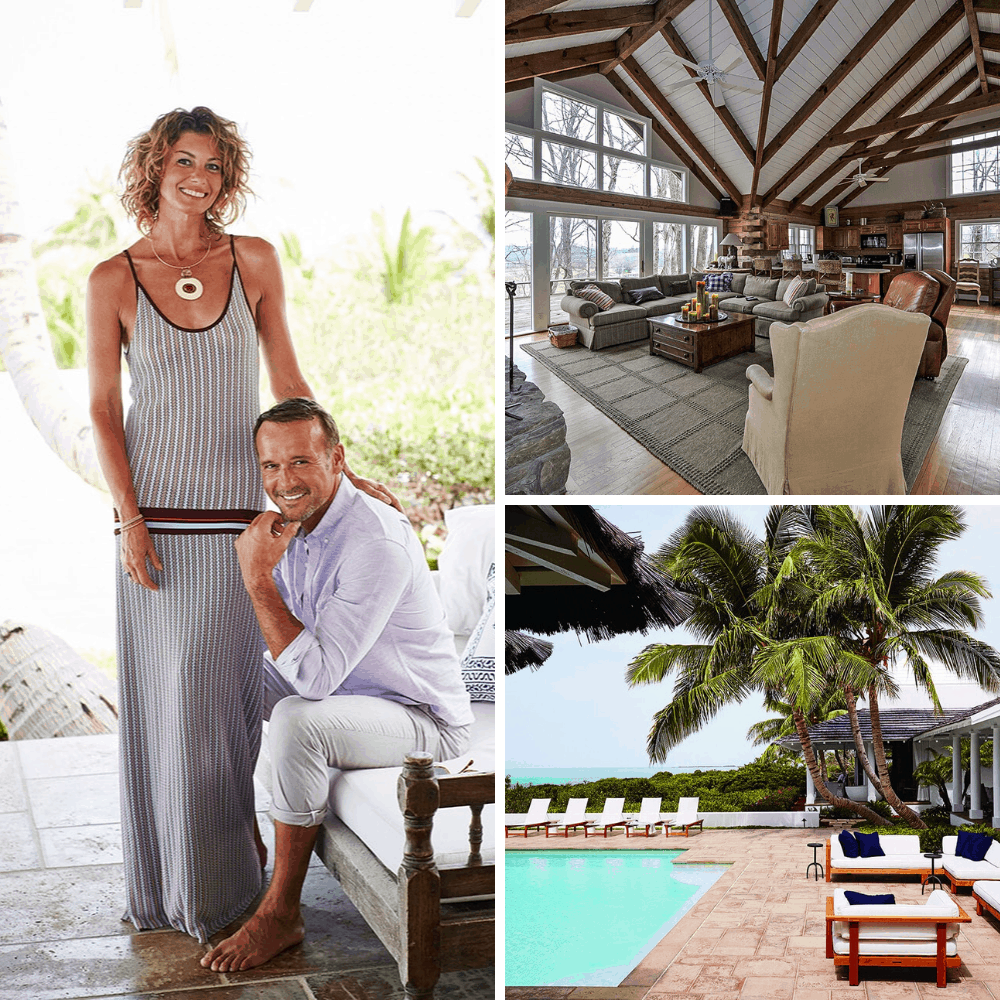 Country music's power couple Tim McGraw and Faith Hill certainly have good taste in properties. In 2003, they purchased their very own private island in the Bahamas and built a dream house there which was lauded by Architectural Digest. The couple has a history of impressive homes and, in this article, we take a look at some of the most luxurious abodes they've bought and sold over the years. Prepare for some serious interior design envy!
L'ile de Agnes, Bahamas
Tim McGraw and Faith Hill have always had stunning homes, but the country's favorite married couple really outdid themselves when they purchased a 20-acre island in the Bahamas named L'ile de Agnes in 2003.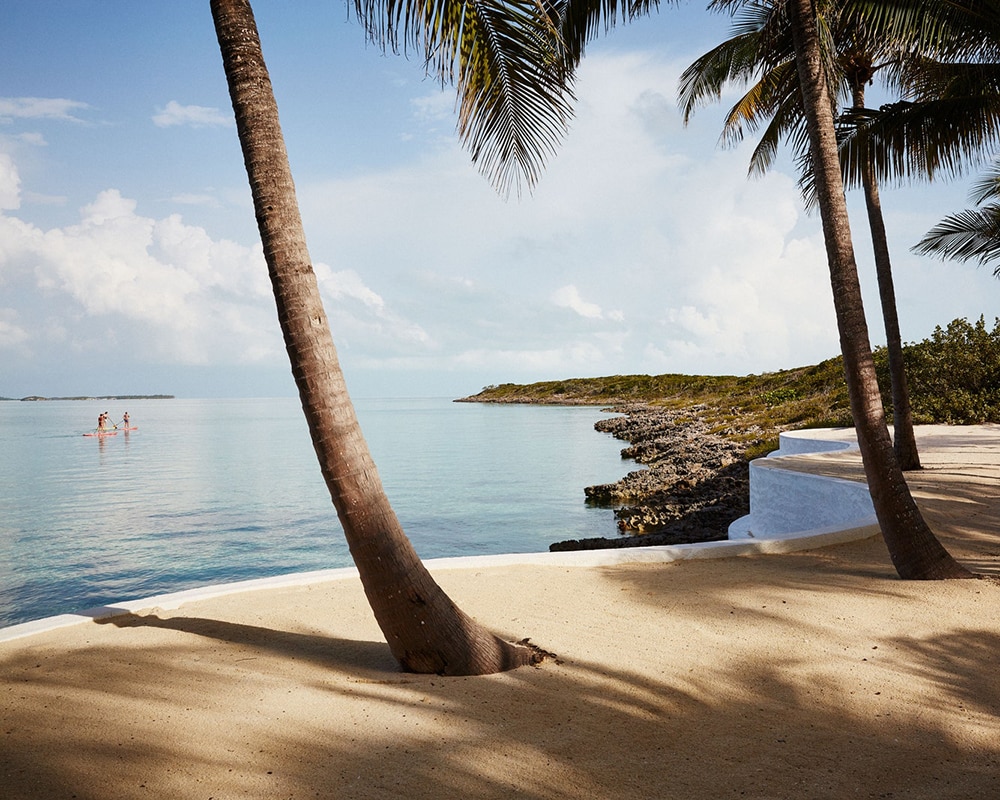 They bought the island with the desire to build their very own private island paradise, but it would be many years before they made their dream a reality, as the only building on the island when they purchased it was a small shack. They were playing the long game!
Pool Between The Palms
When surrounded by the sea, a pool seems less necessary, but fans of country music legends Faith Hill and Tim McGraw will know that the couple can't bear to have a property without a swimming pool.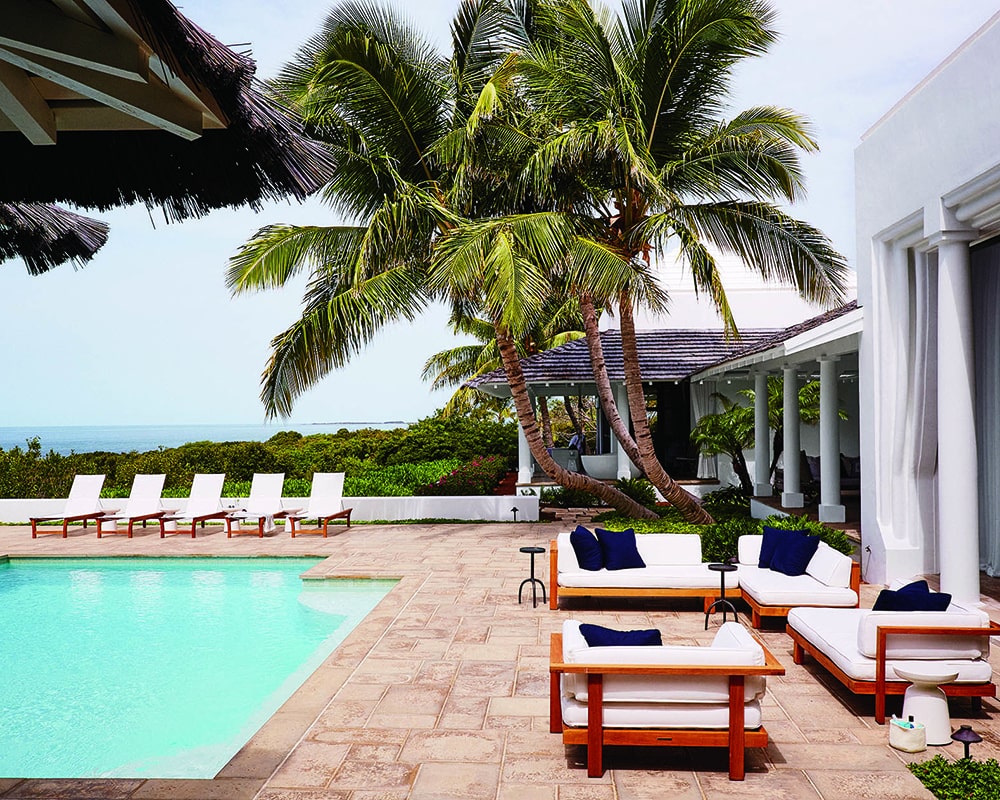 The pool terrace itself is mere meters from the seaside, and transitions smoothly into the internal house spaces. Designed to accommodate a comfortable number of people, the stylish outdoor furniture in aquatic hues was made by Royal Botania and Henry Hall.
Something For The Soul
The open-air living space that connects one of the pavilions to the pool area is particularly preferred by Faith Hill who said "We wanted to feel connected to the outside. When the breeze comes through the room, it's just life-changing… It really is! It's something for the soul."
The interior designers have done a superb job matching the blue accents of this room with the clear sky and sea outside, and the whole experience seems extremely harmonious and peaceful.
Deep Blue Dream
Faith Hill told Architectural Digest in 2017, "We set out to build a house. We had no idea we had to build everything else".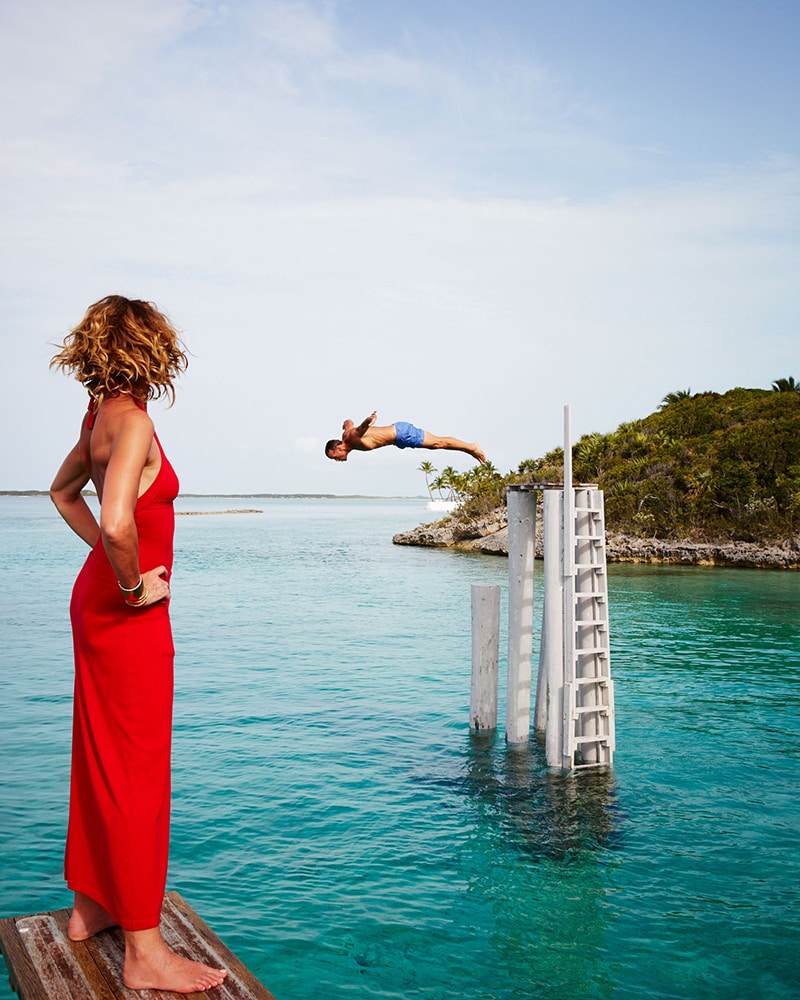 "We basically had to build a little town," said McGraw, who went on to describe how they had to provide housing for all of the people helping to create their oasis, plus finding ways to have running water and electricity. Despite being a country couple, the pair love the ocean and swimming so they were determined to make the island their home.
A View For Two
Although they love to have company, much of the property seems to be designed in a romantic way. This slice of paradise includes several cute corners where Faith Hill and Tim McGraw can spend time together far away from the busy trappings of superstardom.
Faith Hill remarked that "As long as our family is together we can pretty much make a home anywhere." True as that is, we bet it having a private island really boosts the family togetherness!
Pavilions Of Peace
From the pre-existing little shack on the property, Faith Hill and Tim McGraw have crafted a stunning eight-pavilion home connected by thatched roofs. The exterior features well-maintained landscaping, which has always been important to the couple, and they maintain the tropical feeling by highlighting the palm trees on arrival to the property.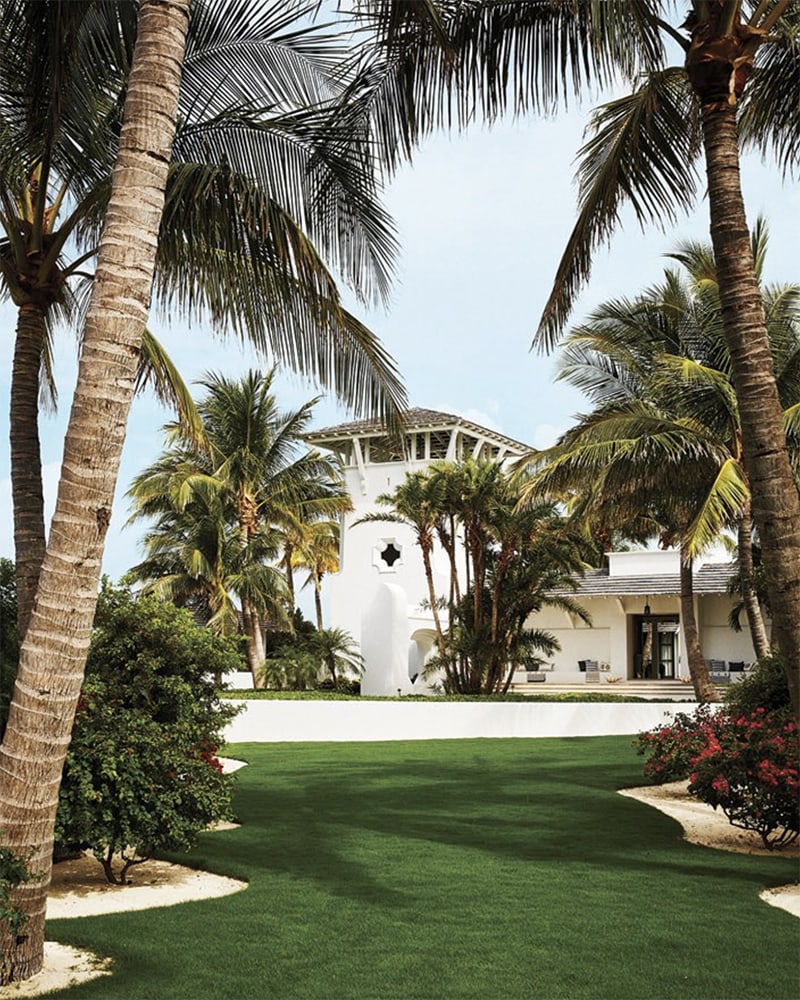 Their architect, Bobby McAlpine from the Tennessee firm McAlpine, asked himself the question: "What does paradise look like for a couple of creative people like them?" The answer: this!
The 9-Year Project
It took nine years for Faith Hill and Tim McGraw to have the home built and furnished. Their initial aim was that their white, airy new build would blend in with the environment of the island, and it does so gloriously.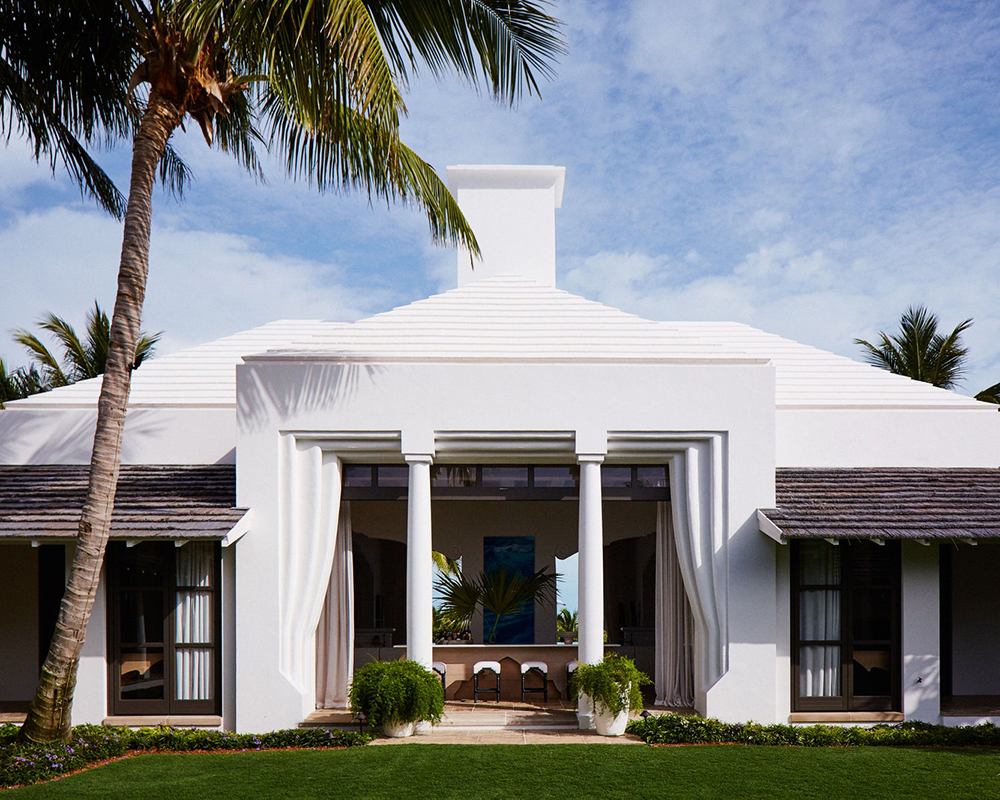 Bleached wood and tropical accents are featured throughout the design, with architectural flourishes that nod to the styles of traditional Greek island houses. The couple were inspired by beaches and kept the color palette washed-out with only natural flashes of color.
A Life Spent On The Road
Faith Hill and Tim McGraw are used to life on the road and spend much of their time touring. While the Bahamas property was being completed, they often visited the island with their three daughters Gracie, Maggie and Audrey.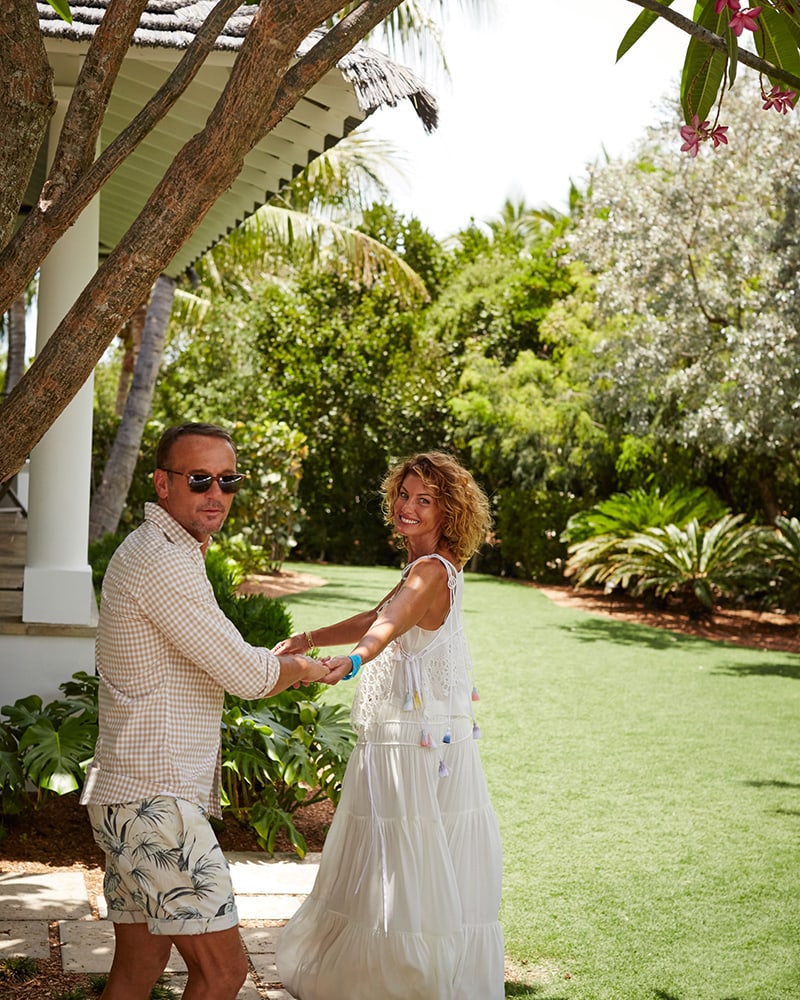 Tim recalls the many vacations spent sleeping on the beach in large seaside yurts: "It was like camping! The kids loved it." However, the couple seems overjoyed to finally have their dream home built and furnished to perfection.
Space For Friends And Family
Another one of the eight pavilions in Faith Hill and Tim McGraw's Bahamas paradise property has everything you could need for a relaxing day spent with friends and family. The dining table in warm wood has space for 8 people to sit around.
The lowered sofa seating is great for relaxed socializing and is the ideal shady corner to retreat to when the midday sun is high in the sky. It seems like the couple have really thought of every occasion!
Spacious And Architectural
The little details are what make the difference in this kind of premium property, and this transitional stairway with an arch is absolute perfection. Despite being a new build, its classiness makes it seem like a timeless property.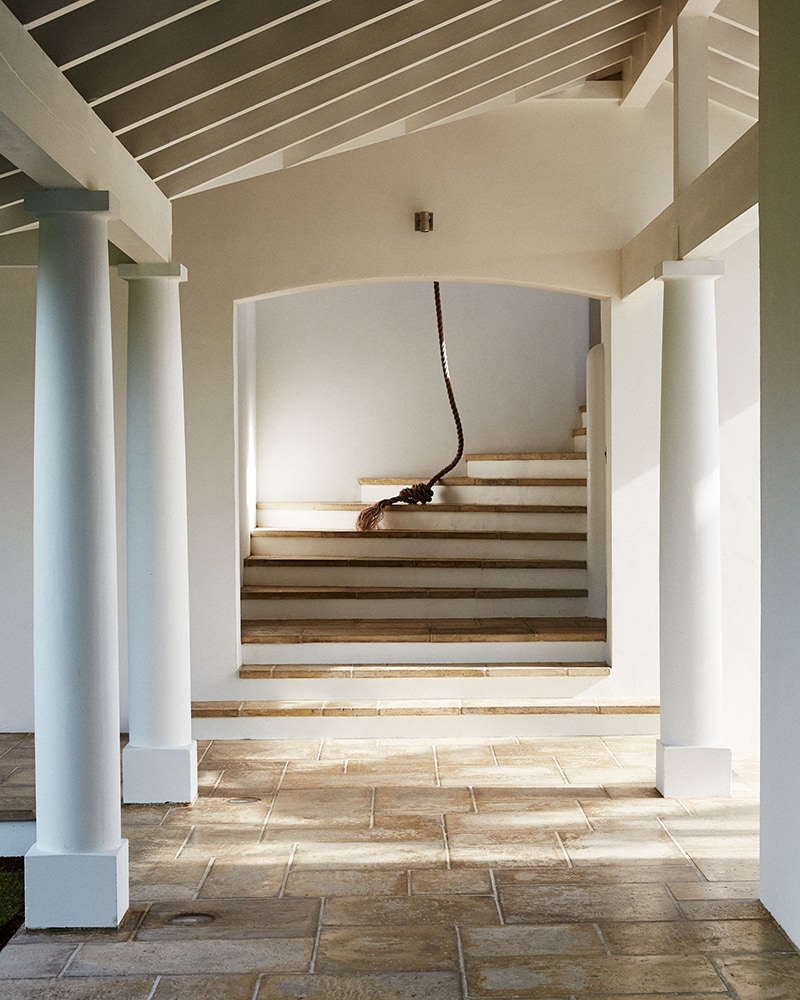 The hallways of the house all have this same airy feeling which makes it seem totally zen. This would be an ideal place to practice yoga or sit on a step to read a book in peace.
Guest Bedroom, Kitty Included
Who wouldn't want to be a guest of Tim McGraw and Faith Hill in their stunning property on a private island? It seems that no expense was spared in the guest bedroom either, which is decorated in the same seaside-inspired tones that we see in the rest of the property.
And what's better than a room with a sea view? A room with a sea view and a kitty too! That's one way to feel at touch with nature.
Fall Asleep To The Sound Of The Ocean
The master bedroom is the pride and joy of Tim McGraw and Faith Hill. This incredible room opens up completely along one wall so you can fall asleep to the sound of the ocean and wake up to the sound of the birds.
According to the Architectural Digest article, the room also has a free-standing bathtub big enough for two on its porch! The entire Bahamas property is immaculate, and a dream come true for the country couple. But what about their other houses? Read on to discover more!
Boat Access Only
L'ile de Agnes sits in the middle of a spattering of small islands in the Bahamas. Exhuma is the nearest international airport, so Faith Hill and Tim McGraw have to use a boat to reach their island paradise.
It's surely a pleasure to zoom over the crystal clear waters, so approaching the island becomes a whole adventure in itself. The couple has three daughters who often join them and their friends on group vacations to the gorgeous property.
Franklin, Tennessee
Faith Hill and Tim McGraw bought this incredible 753-acre farm consisting of four residences from renowned country music legend, Hank Williams in 2001. It contains not one, but four main residences and plenty of other smaller abodes for staff and friends.
The couple had to choose which parts of the property they would renovate. This ballroom with a spiral staircase, hand-painted frescoes, and vintage chandelier would be stunning if it had been restored to its former glory. Older buildings on the register of Historic Places often have stringent legal conditions attached concerning what you can and cannot do to a building.
Beechwood Hall
The H. G. W. Mayberry House, also known as Beechwood Hall, is a historic antebellum plantation house built in 1856. It's even on the Franklin, Tennessee, register of Historic Places. From the outside, it is very impressive, if not a little austere.
Perhaps that's why country singers Tim McGraw and Faith Hill ultimately decided not to renovate this main property and turned the attention to other buildings on the property instead, like the country log residence.
Rolling Countryside
Guests must have been gobsmacked at the sheer size of this Franklin property. Faith Hill and Tim McGraw would have needed a large team to tend to the pastures and take care of the orchards, from which a sizeable apple harvest can be obtained every year.
There isn't an obvious swimming pool anywhere on the grounds, but the water in the stream looks extremely clean, so Tim and Faith could have happily swum there, surrounded by the breathtaking Tennessee countryside.
The Barn Conversion
This carefully renovated barn is the perfect set piece for a couple of country musicians! It's unclear as to whether Tim McGraw and Faith Hill ever had horses, although there are 12 fully functional stalls here if they wanted to.
In many ways, the entire 753-acre estate is a country musician's dream. You could saddle up and ride through the countryside for miles whilst never leaving your property, although it's certainly more enjoyable if you invite some friends along for the ride.
The Bungalow
This small house is one of the two guest quarters available on Faith Hill and Tim McGraw's large estate in Franklin, Tennessee. According to reports, the couple bought the estate in several parcels in 2001.
They actually used the estate for over 12 years, although never as their primary residence, before eventually putting it on the market in 2013 for a cool $20 million. It probably cost quite a lot to maintain this giant estate, and they would have sold it in the knowledge that their island paradise was almost complete!
The Log Cabin
Tim and Faith never actually restored the main Beechwood Hall property, and instead chose to spend most of their time in this 3,300 square-foot log cabin built between 1800 and 1850. The couple restored this property, named Samuel Morton House, and it too is on the National Register of Historic Places.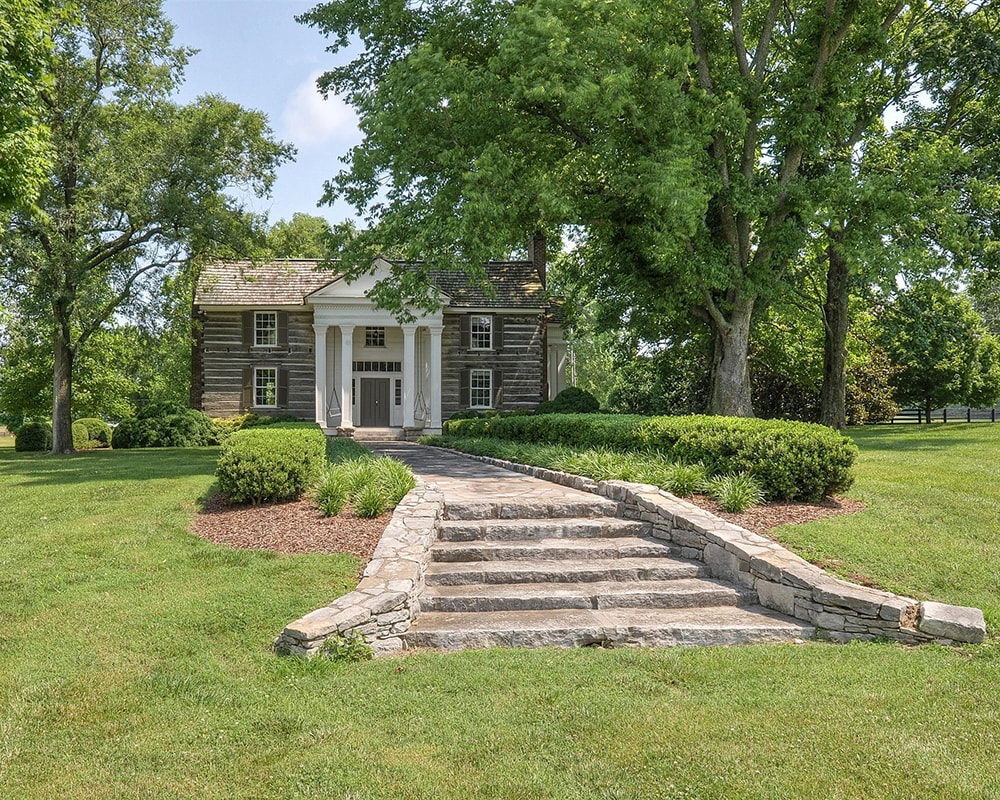 This pretty log home features double-height columns in the Greek revival style and was extensively updated by Faith and Tim over a couple of years. They are said to have come here for long weekends to escape the bustling city of Nashville.
A Lot Of Work To Do
The main house of Beechwood Hall was not restored by Faith Hill and Tim McGraw during the time they lived on the Franklin estate. It seems that although it was a beautiful, large residence, there was a lot of work to be done that would have been both time-consuming and costly.
It seems that this large room with a fireplace has single-glazed windows, which would lose a lot of heat during the winter and would not be very eco-friendly.
Intricate Wood Panelling
Beechwood Hall has some very classic period features throughout, like this intricate floor to ceiling wooden paneling. It's no wonder that Faith Hill and Tim McGraw didn't refurbish this large property, as they would have had to employ somebody full time just to polish all of the wood!
Again, this room is very large and it doesn't look like there is central heating installed, so it would have been a mammoth undertaking to make it liveable and functional as a part-time residence for the family.
On The Porch With A Lemonade
Finally, we find ourselves in the property within the Franklin estate that Faith Hill and Tim McGraw did renovate and live in. This gorgeous porch complete with rocking chairs is at the back door to the 3,300 square foot house. The perfect place for sipping lemonade in the sunshine!
The couple could enjoy a summer's afternoon in this spot whilst gazing out across the green pastures of the large, luxurious property.
Farmer's Kitchen
The brand new kitchen that Tim McGraw and Faith Hill added in their stunning Franklin home has a homely, country vibe to it. The furnishings are light and bright with painted wood adding to the log cabin effect that we saw on the exterior.
This home is very stylish but has a relaxed and more friendly style compared to some of the couple's previous homes. It looks warm and inviting compared to the main building, so it's clear why they chose to renovate this house instead.
Vaulted Ceiling
This converted log cabin on Tim McGraw and Faith Hill's estate in Franklin, Tennessee, has 5 bedrooms. The bedrooms would have been kept just for sleeping because this stunning living room is an incredible space that just calls out to be occupied.
The vaulted ceiling adds intrigue, while the classic chic style we saw in the kitchen is replicated here too. The large French doors that open to the garden could be flung open in summer to listen to nature humming in the background.
In The Conservatory
This peaceful conservatory area was added by country superstars Faith Hill and Tim McGraw when they renovated the log cabin. The view extends across the estate, where apple trees line the fields and all manner of creatures scuttle around the pastures.
It seems like the couple truly wanted to build a haven of peace and quiet where they could feel like normal country folk, albeit wealthy ones! It's a shame they ultimately sold this property in 2013 as it looks like it's got it all!
Giddy Up!
Last but not least, there's a view of the fully equipped stables area for horses in the separate barn building. Every country star dreams of riding around their estate on horseback, and it seems like Faith Hill and Tim McGraw are no exceptions!
Their children have lead relatively sheltered lives, but it seems that the daughters all tried out horseriding at one time or another, which may be why the couple kept the stables in great condition. Giddy up!
Nashville, Tennessee
This stunning house in Nashville, Tennessee, was home to Faith Hill, Tim McGraw, and their 3 children up until 2013. The 5-bedroom property was built in 1936 and sits in a private and leafy street. It looks like the perfect place to relax!
This gorgeous property has a lot of furnishings that are interesting too, with the antique wooden rocking horse that looks to be from the Victorian era. Read on to get a glimpse of Faith and Tim's love of romantic style inside and out in this Nashville, Tennessee home.
Breathtaking First View
The front facade is breathtaking, with its double-height columns and a grand roof terrace that looks across the wooded area. The whole property is almost 10,000 sqft meaning there's more than enough space for a couple and three teenagers.
It's beautifully bathed in natural light, with amazing views of their perfectly groomed garden surrounding the property. The drive up to the house would be a treat for any guest.
Sculpted Garden
Faith Hill and Tim McGraw are big fans of a sculpted garden, and this property is no exception. The whole estate is fully landscaped with professional topiary on all the trees and bushes.
It's worth mentioning that there are houses for workers and a nanny, meaning that Faith and Tim could have staff on-site to tend to the beautiful plants and flowers all year round, handy! What, did you think they were chlorinating that pool water themselves!?
Perfect Pool
Speaking of pools, this one is an absolutely beauty! The three children have always been keen swimmers, so Faith Hill and Tim McGraw made sure they could keep up the sport. The stepped entry looks like a great spot for the adults to sit with a cocktail on a sunny afternoon.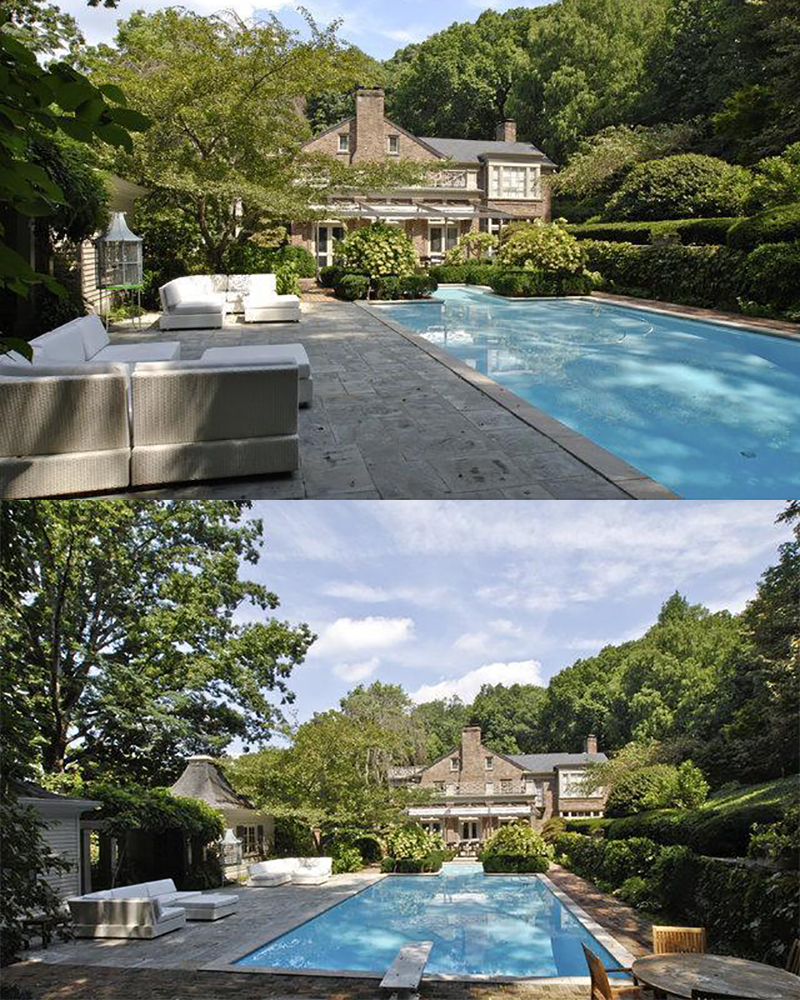 This pool also has an adjacent poolhouse big enough to have people to stay over in. Perfect for when the kids have friends round and want to make a little noise!
Sun-kissed Patio
It's fair to say that Tim McGraw and Faith Hill enjoy having company over, so they'd make regular use of this gorgeous sun-kissed patio area. Nashville has pleasantly hot summers, so this area would be action from May until September.
Accordingly to the estate agent listing, there is also a barbecue and a wet bar outside, so the couple can wow their celebrity friends with restaurant-style food and drinks service. It's the little details that count in this $4 million mansion.
Stylish And Functional
Guests entering Faith Hill and Tim McGraw's gorgeous Nashville mansion would be instantly impressed by this classic helical staircase that sweeps up to the second floor. There are obvious nods to the 1930s era of the house, and the interior stylings are in harmony with the architecture.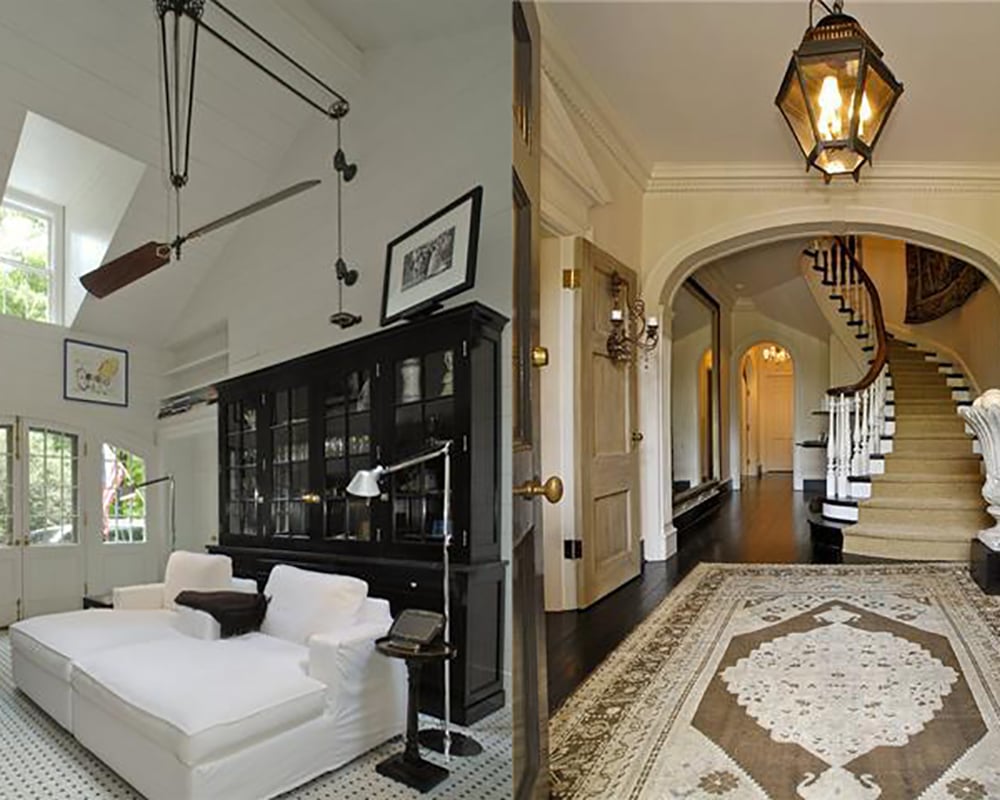 The lantern light fixture in the entrance hall is gorgeous, and the vintage fan in the casual dayroom area brings back memories of the glory days of American architecture. Stylish and functional!
Environmentally Friendly
The rest of the house may be vintage in design, but the kitchen appears to be very modern and functional. This gourmet kitchen has all the modern appliances, from a large range, a trash compactor, and a big-screen TV that's ideal for watching your favorite show while you cook.
The energy and heating to the kitchen and to the whole house is natural gas and geothermal energy, meaning it's also incredibly environmentally friendly. These are two country singers who want to care for their country!
Neutral Color Palette
Faith Hill and Tim McGraw love to have a variety of living spaces for all occasions. The fireplace should be noted – that'll come in handy when the cold Tennessee winters roll around. As in the other rooms, the neutral color palette is maintained in these lounges, making them appear calm and open.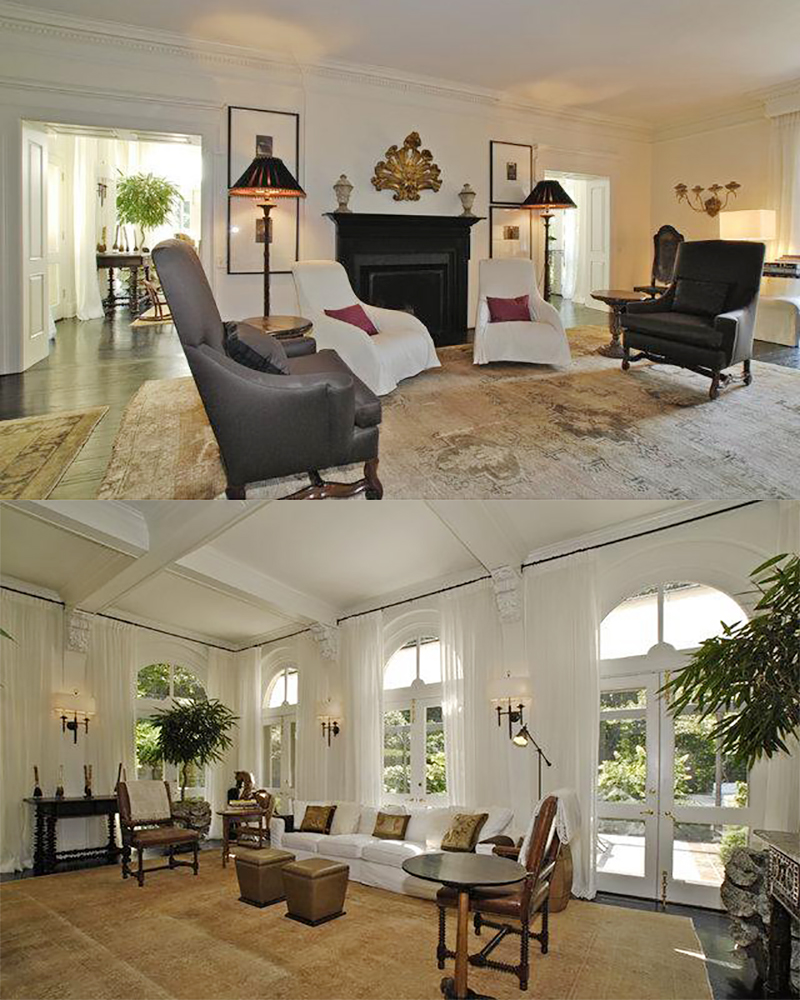 According to the estate agent listing, this property also has a 4K theatre! You can imagine the whole family hunkering down for a cinema-style movie night during bad weather.
A Tale Of Two Dining Areas
Last but not least, two dining areas! The first room seems to be a more formal setting, perhaps for when visitors came. The second looks to be decorated in the same style as the kitchen and could have been used for casual snacks and family-only meals.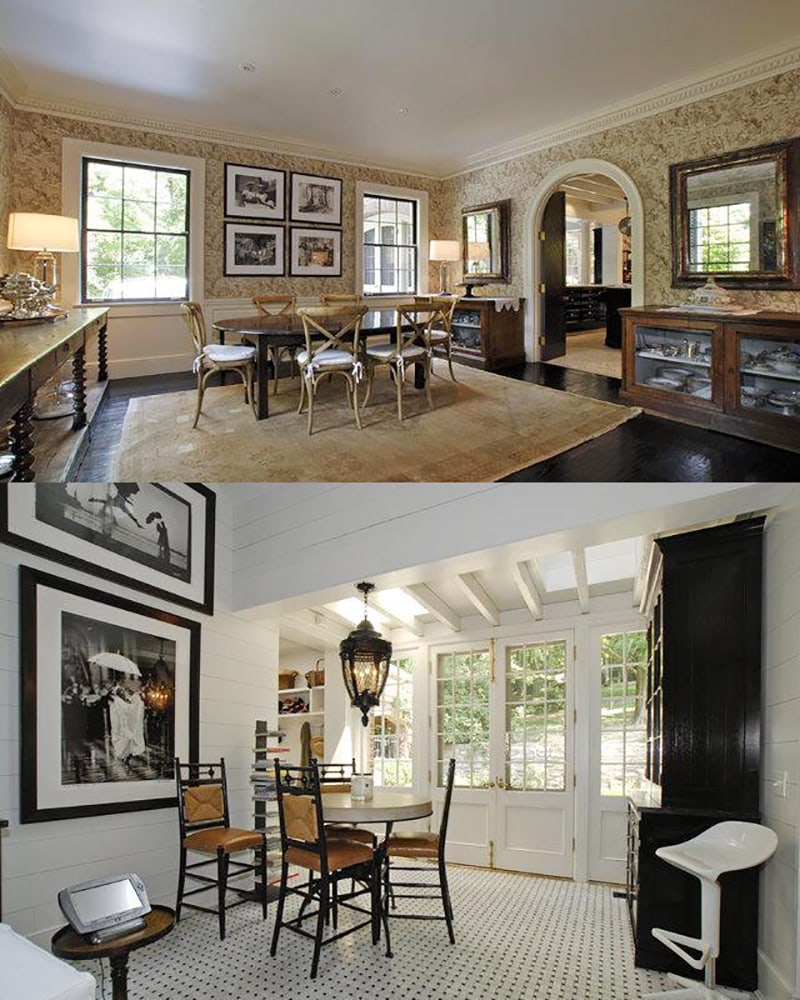 The formal dining room has exquisite vintage wallpaper, but there is something very charming about the second room. It would be so peaceful to sit down and gaze out towards the beautifully cared-for garden.
Beverly Hills, California
While Faith Hill and Tim McGraw had a family home in Tennessee, they also owned this Beverly Hills house. The pair were often in Los Angeles for work, so it's no wonder they needed a second home, and they lucked out with this exclusive neighborhood.
Even though this Beverly Hills pad was not Faith Hill and Tim McGraw's primary residence, they still made sure there was plenty of room to entertain guests. The lounge features interesting period touches such as the exposed wooden beams and functioning fireplace.
Beverly Hills, California
Due to the California sun, Faith and Tim were more likely to use their outdoor seating area than the open fire! The wooden trellis is a nice touch to complete the Mediterranean feel – you can almost imagine grapevines trailing over it.
The house sits on a 4-acre plot on a small hill with breath-taking panoramic views. It certainly makes a change from some of their more rustic Tennessee properties, although perhaps the style inspired their Bahamas home.
Get Ready To Grill!
This stunning property is described as a Mediterranean estate, which is evidenced by the warm, terracotta tiles and cool white exterior walls that are found in villages in Italy, Spain, and Cyprus. Of course, Faith Hill and Tim McGraw required a luxurious pool, and this one looks good enough to dive into!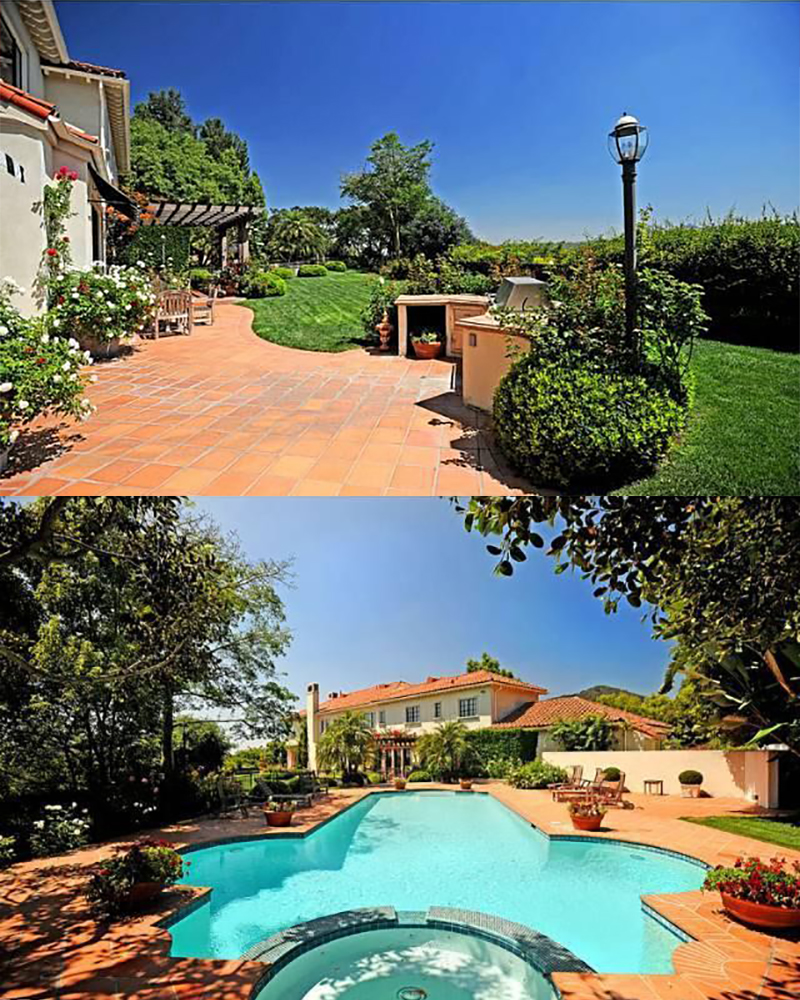 There's a casual outdoor seating area with a built-in grill for when the BBQ mood strikes and the garden is manicured to perfection. The property cost the couple over $10 million when they purchased it.
Fit For Royalty
The rest of the interior of this Beverly Hill's property is equally plush, with dark woodwork and comfy-looking soft furnishings fit for royalty… or country music's royal couple, anyway!
According to the estate agent listing, the stylish house also has a gourmet kitchen with all stainless steel appliances. Faith Hill and Tim McGraw eventually sold this property in 2009, by which time they already had the Bahamas home in progress, as they probably had more houses than they needed.
Belle Meade, Tennessee
This large 1960s property in Tennessee's Belle Meade area was bought by Faith Hill and Tim McGraw in 2004. The house sits on an 11.6-acre lot in a wooded area, with a long private drive that leads to a broad parking area.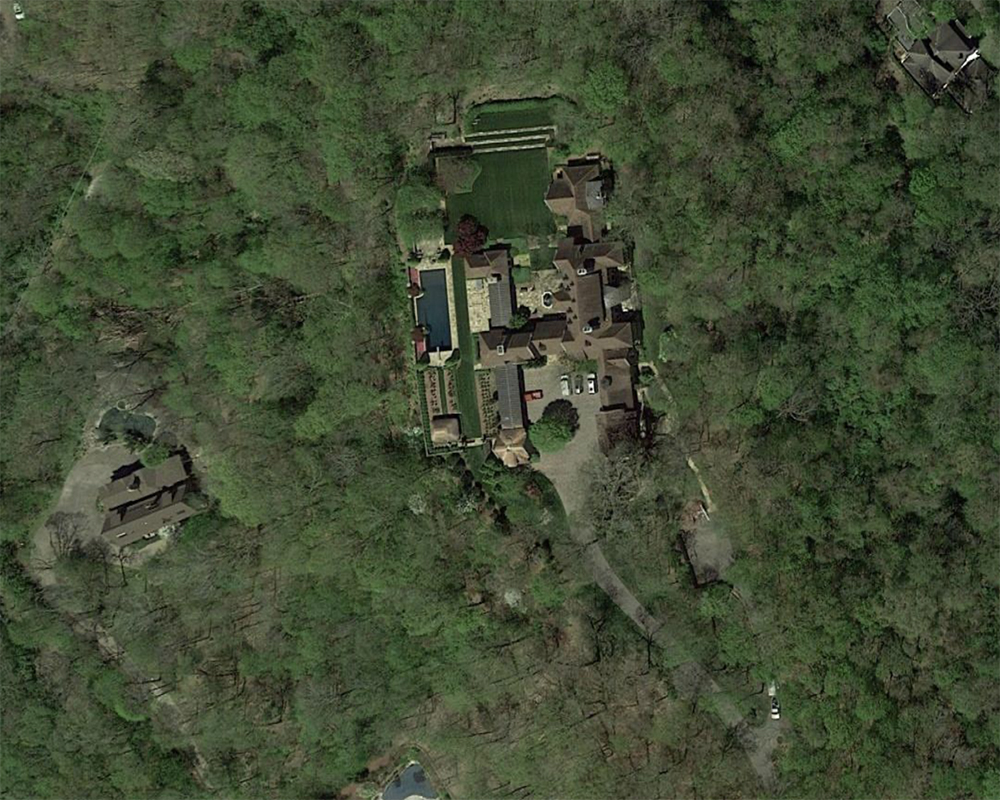 There is a large swimming pool, which is definitely one of the couple's non-negotiable 'must-haves', an outdoor lounging area, and a neat-looking sculpted rear garden. The couple stayed in this property until 2010 when they sold it for $2,115,000
Feels Like Home
Faith Hill and Tim McGraw's Belle Meade house boasts 7 bedrooms and 5 bathrooms, as well as a large attic and basement. The estate agent that sold them the property said, "The 6,072 square-foot house is a wonderful, welcoming place that feels like home. It has a pool and a beautiful wooded lot."
It's likely that they moved out in 2010 because their three daughters were all approaching their teenage years, and would have been asking for more private space of their own.
Brentwood, Tennessee
This mid-90s house on a quiet, leafy street in Brentwood, Tennessee, was home to Faith Hill and Tim McGraw until 2005. They sold the gorgeous property for a cool $1,855,000. Since then it's added half a million dollars to its value from inflation alone!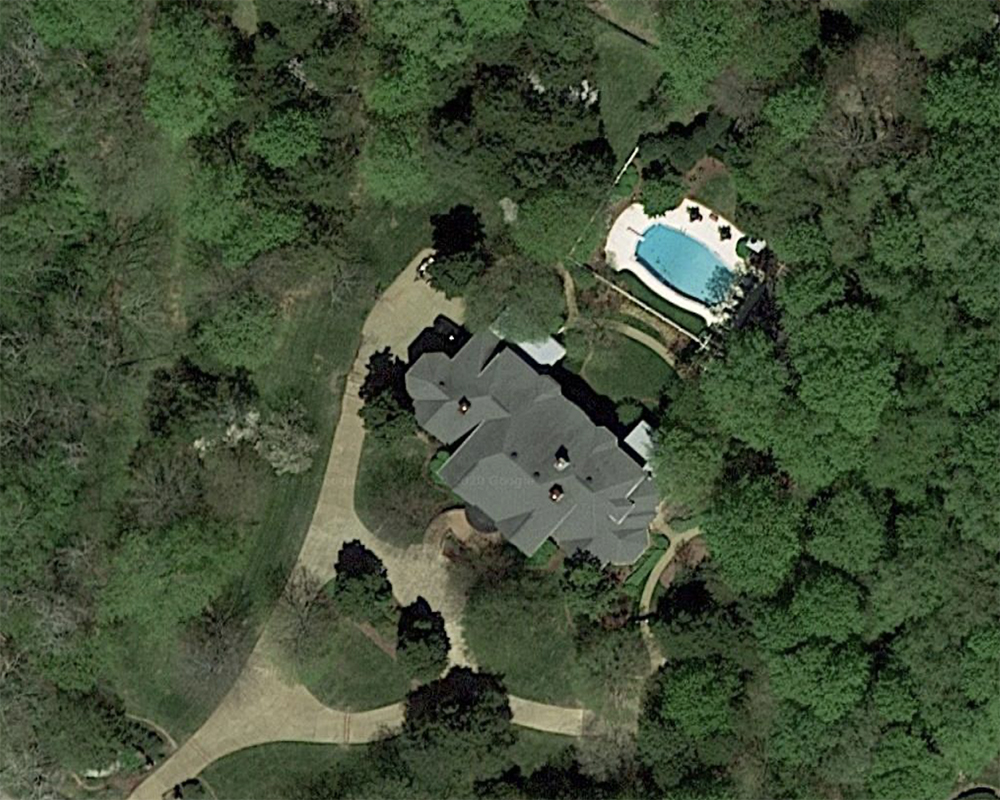 It has 3.5 acres of land and a large 1,782 sqft basement which would be perfect for keeping all of their instruments. The area around the property is very suburban, with a small methodist church around the corner.
A Place To Get Away
Faith and Tim never shared any photos of the property, so not much is known about the interior, although an estate agent website states it has a fireplace and 10.5 bathrooms. It sounds like there are plenty of rooms to have guests stay!
The early 2000s were Faith Hill's real breakthrough years in music, so the couple probably wanted a nice, secluded property where they could get away from their busy professional lives.
The Gorgeous Hamptons Homes of the Stars
Robert Downey Jr. – $12 million
Robert Downey Jr. has been acting for decades and is probably most familiar to many as the dashing, billionaire superhero Tony Stark, a.k.a. Iron Man. Though he has spent the last few years surrounded by high tech gadgetry, his taste in real life is a little more rustic. His home in the Hamptons is a traditional, and classic style windmill cottage. Where it becomes more modern is when you enter the home. The walls and rooms are fitted with modern art that reflects this quirky actor's inner soul.
Jennifer Lopez – $10 million
The singer, actress, and fashion icon lives just around the corner from her beautiful Hamptons mansion. Being so close means she can spend a lot of time on those 3 acres of beautifully landscaped property. The home is a large estate that has amenities like a steam room, and a home theater. It is designed with several bedrooms and bathrooms. Plus, it has a pool house. It seems like J-Lo has everything she needs to make her and her family's stay in the Hamptons amazing.
Katie Couric – $6.3 million
Katie Couric has been a staple in television news for decades, and over that time, she has certainly built a pretty hefty bank account. So what better way to spend some of that hard-earned money than purchasing a lovely two-story home in the Hamptons. This home has a beautiful pool, gardens, a tennis court, and a patio area. Crafting a perfect mix of modern and classic styles, this home is a great place for her to unwind from the rigors of the very hectic news world.
Jay-Z & Beyonce – $26 million
One of the biggest and most influential couples in the world also needs a little downtime. Downtime means relaxing in their large home in the Hamptons. The house contains seven bathrooms and sits on 17 acres. Sitting lakeside, this home offers plenty of things for them and their little ones to do and has a stunning lakefront view.
Jerry Seinfeld – $32 million
The comedian purchased this home from Billy Joel. The price tag was definitely worth it when you look at the beautiful architecture. Though the outside is nice to look at, the true beauty happens when you walk inside the home. Featured in InStyle, this home is fitted with lavish furniture, an epic kitchen, and stellar views. No wonder the comedian jumped at the chance to invest in this Hamptons home.
Paris Hilton – $175 million
It should be no surprise that this young entrepreneur doesn't have to worry about money. So it is also no surprise that she loves to spend time in her family's mansion in the Hamptons. This home was once part of the Ford estate but found its way into the Hilton family in the 90s. The home sits on three acres and gives its owner fantastic ocean views. You can even rent it out if Paris isn't staying in it all you have to do is drop a cool $450,000 for the summer.
Russell Simmons – $7 million
From Def Jam Records to FUBU, Russell Simmons is an innovator and visionary. Having all these balls in the air can be stressful, and so what a guy needs is a beautiful home in the Hamptons. He owns several homes, but this bungalow is close enough to New York that he can slip away whenever he needs a little R&R. The home has a large backyard swimming pool and plenty of space both inside and out to entertain all his famous friends.
Steven Spielberg – $25 million
For decades, Steven Spielberg has been bringing us epic movies. It should be no surprise that his home in the Hamptons is just as epic. The home, though smaller than some, is a beautifully designed home that mixes contemporary with traditional seamlessly. Situated in the Georgica Pond area of the Hamptons, this home includes not only the house itself but a pool house and an outhouse, as well.
Julianne Moore – $1 million
This Oscar-winning actress has found a quaint home in Montauk, New York. This 1,000-square foot home is a small open cottage with beautiful wooden floors and a screened patio. The vibe of this home is simple and laid back, which is what every celebrity needs after those long hours on set. The home is close to the water so that she and her family can enjoy the time tested Hampton's activities like kayaking and swimming.
Jimmy Buffett – $6.5 million
This is the summer location of Margaritaville for the singer-songwriter Jimmy Buffett. His North Hamptons home, which is just up the road from another celebrity, Richard Gere, is a modest-sized mansion. With 1,400 square feet and multiple bedrooms and baths, it is easy to see why Jimmy leaves Florida every year to enjoy the beauty of the Hamptons. It doesn't seem like he will be wasting away in this Margaritaville.
Louis CK – $2.4 million
The comedian has found himself at home in the Hamptons since 2014. That is when he bought a beautiful Tudor style house on Shelter Island. Once he purchased the home, he renovated the interior to make it his own. Now, the primrose style cottage is perfect for entertaining his friends and family.
Ina Garten – $3.5 million
We are all welcomed into the Barefoot Contessa's Hamptons home every time we watch one of her popular cooking shows. Situated in East Hampton, this compound features the main house, as well as a barn. The main house has a lavish and beautiful garden for farm to table eating, as well as an apple orchard.
Ellen Pompeo – $1 million
Located in the beautiful Sag Harbor area of the Hamptons, the Grey's Anatomy star fell in love with this beautiful farmhouse style home. The home sits on 8+ acres and has been renovated to make it a perfect combination of quaint and contemporary. The home itself is 2,400 square feet and features an open floor plan.
Scarlett Johansson – $2.2 million
When ScarJo is not saving the world as Black Widow, she likes to take a little time to herself while relaxing by the beachside in her Hamptons home. The modest home is designed with multiple bedrooms and bathrooms, as well as a pool, a ton of balconies, and more amazing design choices. The interior is decorated to be simple and stylish. Classy might be a word you would use, but then again, we are talking about Scarlett Johansson.
Lorne Michaels – $3 million
Lorne Michaels has gotten a lot right. From the creation and production of Saturday Night Live to buying land in Amagansett, East Hampton, and building his own home. Taking the time to craft a house that would be tailored to his needs makes this home a unique find in the Hamptons nowadays. Lorne is a local and can be found strolling around town quite regularly. He loves to entertain friends at his amazing home.
Jon Bon Jovi – 7.6 million
In 2004, Bon Jovi purchased this home on Lily Pond Lane, and the rest, as they say, is history. Originally a summer home, the rocker has found himself almost becoming a local. The home is a beautiful home with all the amenities a celebrity would want. In fact, the musician loves it so much that this home inspired him to create a rose wine with his son.
Sean Combs – $2.5 million
This amazing modern home located in East Hampton has a beautiful seafront view. These views can be taken in from anywhere in the home, thanks to the open floor plan and giant windows. Diddy loves to throw parties, and one of his most famous is the White Parties. These parties are legendary and have helped contribute to the popularity of this part of the Hamptons.
Matt Lauer – $2.2 million
Purchasing Richard Gere's home, the face of morning television now owns a residence in Sag Harbor. The property, Strongheart Manor, was built in 1902 and sits on a little over six acres of land. The pond, basketball court, and other extra amenities are perfect to lounge the summer months away. The home itself is a 14,000 square foot home with a dozen bedrooms and bathrooms. A porch runs around the home completely. This is a stunning home with beach access and a drydock. Talk about your summer vacation!
Renee Zellweger – $4.7 million
Though the actress actually no longer owns this home, at one time, this was her favorite place to while away the summers. It is probably one of the most modest homes on this list, but it is still worth taking a look at. It is an early 20th century home that sits on an acre of land. The home is surrounded by tall well-manicured hedges that offered the actress plenty of privacy.
Billy Joel – $19 million
Billy has moved on from this home, but his spirit still lingers. This amazing home was sold in 2014, and whoever bought got a good deal. For just 19 million, they got a seaside home in Sagaponack that is designed for relaxation and luxury. With wooden floors and a decked out kitchen surely, the new owners will have a ball preparing food listening to the home's previous owners' greatest hits.
Kelsey Grammer – $10 million
This is another case of the actor already selling the home, but whoever bought it sure was lucky. The home is designed with 7 bedrooms and bathrooms, a pool, tennis court, and a home theater, among other amazing amenities. The classically shingled roof home is located on almost two acres of land. Beautiful views and magnificent architecture, this home will always be remembered as Kelsey's place.
Martha Stewart – $1.7 million
The guru of home living and cooking definitely needs a home in the Hamptons. Martha's home in the Hamptons is located on Lily Pond Lane and is a classic cottage style home. The home itself was built in the late 19th century. Ms. Stewart, of course, took the time to renovate and get everything back to the home's original beauty. It is surrounded by beautiful flowers, and it has a stunning and traditional wood cladding.
Robert de Niro – $2.7 million
You looking at me! That's right; even this Oscar-winning tough guy needs a little downtime. The perfect place to do that is in the home his father left him. The home that was left was a beautiful 2000 plus square foot home. But de Niro feeling it is a bit too large just got permission last year to tear it down and rebuild a more modest two-story home.
Sarah Jessica Parker – $4.6 million
Both Sarah and her husband, Matthew Broderick, have a pretty jam-packed schedule, so having a quaint little cottage to escape to is a good investment. Their Hamptons home is beautiful and classic on the outside with a modern interior. This is a perfect combination and one that fits the Parker-Broderick family. With a beautiful patio, it is very easy to see why this power couple like to while away their summers (when they can) at this beautiful home.
Brooke Shields – $4.3 million
Brooke Shields loved the Hamptons and had always dreamed of owning a home there. In 2013 that dream came true when she bought this beautiful farmhouse from retired NFL tight end Vyto Kab. The home was originally constructed in the 1920s, and once Shields purchased it, she made a few changes to make it her own. The land attached to this property has beautiful gardens and grounds, as well as a pool and a pool house.
Reed Krakoff – $24 million
The once head honcho at Coach, Inc has stepped down, but after years of working for the company, he still needs a good place to unwind. He certainly knows how to pick the spot too! Opting to purchase a house formerly owned by the Bouvier family (that's right; this home was once a place where Jackie Kennedy lounged). The home itself is a classic style Hampton home and sits on 6.4 acres of land. There are carefully crafted gardens, a stone pool and a main house to die for.
Kourtney Kardashian – $13 million
Reality television stars love the Hamptons, and so it makes perfect sense that one of the Kardashian clan has a home here. Though the house was put up for sale, there will forever be a Kardashian linked to this amazing house. The large house has five rooms and a large kitchen perfect for a growing family. The rest of the house is meticulously designed and has a beautiful open floor plan. Plus, it has a lake in the backyard. What more do you want!?
Dick Cavett – $48.5 million
This celebrity may be known for his legendary talk show, but what he likes to do now is relax in his 7000 square foot home in Montauk. He and his wife have owned the home since the 1960s but put the property up for sale just last year. The home sits on 20 acres and has a spectacular garden, a beautiful pool, and sits on the beach. In fact, that section of the beach has come to be known as Cavett's Cove.
Bethenny Frankel – $3.2 million
The Real Housewives is a massive hit, and one of its biggest stars is Bethenny Frankel. This entrepreneur and reality television star lives in New York, which is a hop, skip, and a jump to her Hampton home. Her home in the Hamptons is called Morning Glory House and is in Bridgehampton. This beautiful home sits on half an acre of land and once was a bed and breakfast. Renovated and designed to Bethenny's taste, it is now a great place for her to entertain friends and family.
Neil Patrick Harris – $5.5 million
This multi-talented childhood actor turned superstar also has chosen to spend some time in the Hamptons. Along with his husband David Burtka, he bought this amazing 13.5-acre property. The house that sits on this property is a 5250 square foot wood-shingled home that screams traditional and classic taste. It is a great place to take the kids to get away from the hustle and bustle of this couples very busy life.
Betsey Johnson – $1.5 million
Quirky and unique are words associated with the fashion giant Betsey Johnson, and when it comes to her East Hampton Village home, they are also accurate. The interior of this home is designed with care and attention to Betsey's creative flair. The outside portrays the classic Hampton cottage vibe, and the land the home sits on is beautiful as well.
Paul McCartney – $1 million
This Hampton home doesn't quite seem like a home that a rock and roll legend would invest in, but looks can be deceiving. Over a decade ago, the frontman of the Beatles and the living legend, Paul McCartney, purchased this quaint, unimposing property. It may seem simple on the outside, but the interior is laden with tons of music memorabilia. With its beautiful backyard and pool, it is the perfect way to spend a summer afternoon.
Ralph Lauren – $16 million
The fashion icon has been dressing us for over half a century and has accumulated several homes. One of his favorites is the Hamptons home he owns in Montauk. Just down the street from one of our other celebrities, Robert de Niro, this home has an atmosphere and some pretty cool neighbors. Sitting on a good size piece of land, the mansion is surrounded by lush foliage and well-kept lawns perfect for a summer getaway.
Howard Stern – $15.1 million
The Hamptons are typically a summer getaway, but nothing Howard Stern ever does is normal. So he and his wife Beth actually make this 3 acre home their permanent residence. The house is 16,000 square feet and has a bowling alley, a wine tasting room, and a heap of bedrooms and bathrooms. Not to mention you can literally stroll to the ocean anytime you want!
Rachel Ray – $4.5 million
Talk show host and celebrity chef Rachel Ray also owns a home in the Hamptons. Her beautiful home is located in Southampton and sits on 6 acres of land. The entire house is delightfully designed, but the kitchen is the heart of the place. It makes sense since Rachel likes to cook up yummy food for a living and relaxation. The magical property though, has been reported to be up for sale.
Paul Simon – $10.5 million
This iconic music legend has had a house in the Hamptons for a long time. His quaint cottage home is located in Montauk, and it has plenty of the lavish amenities you would expect from any of these celebrities. The outside is traditional and simple, but inside you find a mix of old and new. Playing with the rustic beauty of the home, Simon has carefully designed his home to show his personality.
Calvin Klein – $75 million
Staying true to his trendsetting ways, Calvin Klein spends his summers in his beautiful and modern home in the Hamptons. Unlike many of the other stars on our list, he chose to purchase land and build his dream vacation home. Started in 2008, the construction finally finished last year, and now he can enjoy his Calvins as he roams around his spacious and customized home.
Anthony Scaramucci – $9 million
This entrepreneur and political consultant has had quite the couple of years. It is no wonder that he feels he needs a place he can decompress. His Water Mill home is absolutely perfect for this. It is a modern home with a stylish exterior and all the amenities you would want. Inside you will find 8 bedrooms, a theater room, and even an office used as staff quarters. When Anthony wants to step away for a bit, he has a chunk of land to roam, a pool, and a great backyard to unwind in.
Kelly Ripa – $2.4 million
Kelly Ripa and her husband Mark Consuelos, have carved out amazing careers for themselves. Starting as castmates on All My Children, their romance blossomed, and they eventually married. This couple, with their children, love to spend time at the Hamptons home. Sitting on a small chin of land, their home is a farmhouse-style home that they have carefully renovated to make it perfect for them and their family. This home is also fitted with a pool and an attached hot tub, which is great for relaxing.
Alec Baldwin – $12.5 million
Alec Baldwin is an actor who has been entertaining us for over three decades, and with that time in the limelight, he has accrued a little pocket change. Having loved the Hamptons since the mid-80s, it wasn't until the mid-90s that Baldwin bit the bullet and purchased a large farmhouse. This farmhouse was first built in the 18th century, and so it needed a little refresh, which he did. Once he moved his family in, they updated it, but the home is still a quintessential Hampton vacation home.
Jemima Kirke – $2.3 million
Though not directly hers, this home does belong to this actresses family, and she spends a great deal of time there when relaxing in between shooting her projects. Situated in East Hampton, the home was originally constructed in 1900. With access to Gardiners Bay, the 2000 square inch home is perfect for just that. The property offers a private beach, a pool, and a spa, which makes it versatile in regards to chilling out.
Gwyneth Paltrow – $5.4 million
This Amagansett mansion was new when Paltrow purchased it in 2006. The property is a magnificent sight with its well-manicured lawns and large pool. The home itself is a 7000 square foot building that comes with a handful of bedrooms and 7.5 bathrooms. The interior is spectacular and has many specialized rooms, including one for the kiddos.
Richard Gere – $36.5 million
Richard Gere could very well be wasting away in Margaritaville every weekend as his neighbor is the musician Jimmy Buffett. Though it may not feel like he's your neighbor in the 8000 square foot home. The lakeside home is surrounded by beautiful nature and offers awe-inspiring sunsets. This is for sure, a place that screams luxury and relaxation.
Tory Burch – $1 million
Fashion is subjective, but there are some designers that are just classic like Tory Burch. Making her fortune from handbags, she eventually expanded her design empire and now is wealthy enough to afford a million-dollar mansion in the Hamptons. Her home, or should we say estate, situated in Southampton. The home has a floorplan of 15,000 square feet and is architecturally designed in the Georgian style. The backyard has a magnificent garden and an expertly landscaped lawn.
Eli Manning – $8.5 million
This football all-star has plenty of bankroll after his two super bowl wins and his multiple multi-million dollar endorsements. So he chose to spend some of that cash on a beautiful oceanside Hamptons home. The home is located in Quogue. The house is 7000 square feet with five bedrooms. On top of the prime oceanfront access, the home has a large outdoor pool for those that don't want to swim in the ocean. Nice to have choices when you're trying to take a breath.
Anderson Cooper – $3 million
Though it is reported that he has sold the home he still used it for years to get away from it all and have a little me time. The home sits on three acres in Westhampton. The home is a beautiful home with a perfectly designed porch that wraps around the entire main house. This is ideal for long summer days lounging on a chair, reading a good book, and listening to the ocean waves. Sounds tranquil, doesn't it?
Ramona Singer – $3.1 million
The Hamptons are rife with housewives! I mean the Real Housewives. Another star of the New York brand, Ramona Singer, also has a home in this playground of the celebrities. Her home is situated in Southampton. The house has stunning views of the water and a pristine white interior that is perfect for any socialite with style. The house itself has an outdoor pool that is heated, a bocce ball court, and so much more. That sounds like a nice way to spend a few weeks of the summer.
Stella McCartney – $1.5 million
This designing icon shares a love of the Hamptons with her famous rockstar dad. Wanting to spend some quiet time with her dad, the duo purchased this property together. Though not as lavish as some other celebrity homes, it does have that must have quality for good real estate: location, location, location. It is a large home, just a short walk from the beach.
Brian de Palma – $3 million
The legendary director has been bringing us epic films for a little over half a century, so he deserves a little downtime sometimes. That is what his East Hampton home is for. Sitting directly on the beach, it is a traditional Hampton house with a shingled exterior. The interior is 3500 plus square feet and comes with a heated swimming pool in the back.
Christie Brinkley – $25 million
Though this house has been on the market for a while, it is still owned by Christie. This supermodel turned fashion mogul has spent many a hot summer laid out at her home. This house, originally constructed in the 1800s, has a beachfront as well as a 5500 square foot house. The house and all of its glory sits on 4.5 acres. All of the amenities, including beach access and the pool makes this an ideal home for a fashion icon.