Mike Izzard is a 45-year-old postman with a huge heart. He has been voluntarily renovating and reviving a disused rail station in Hertfordshire for the past three years.
One day, while he was planting daffodil bulbs, he dug up a halfpenny coin. He kept digging and soon found an old leather bag, more coins, and a key.
Upon removing the contents from the bag, Izzard discovered an Access card dated 1979-1981, and an old Midland Bank Check, both bearing the name Angela Dimond.
Mike Izzard soon posted pictures of his find to social media and found that the owner still lived in the area, less than two miles away from where he found the bag. He was able to contact her and return it the same day.
The day of the find Izzard had been planting daffodil bulbs beside a bench in Nast Hyde Halt station, which is on a cycling path. "It's like something from a movie script, it's just bizarre, not only to locate her but to hand it back on the same day, that's just incredible! I could have put that spade in anywhere, so the odds are just unimaginable, " Mike said.
Angela Dimond, a 63-year-old university librarian from Hatfield, was equally shocked, if not more. She had last seen the purse in 1980 when she was 25 years old. She had been mugged close to the former station. Angela recalls the day she was assaulted, "'I just got to near the bridge on the Alban Way, and somebody came out of the bushes, snatched my bag and ran off with it." The robbery was reported, but the culprit was never caught.
Angela Dimond says that she has avoided the area since the robbery, but she will go see Mike Izzard's renovations.
Mike won't soon forget the exciting find. "She invited me round for a cup of tea, and I gave her the goods… We had a lovely chat. These sorts of things live with you forever."
All The Times Ryan Reynolds and Blake Lively Have Trolled Each Other
A Healthy Relationship
When Reynolds was doing a round of press tours for Detective Pikachu, he stopped by Live with Kelly and Ryan for an interview. Inevitably, he was asked about the frequent online trolling with Lively. As an answer, he shared an old family adage. He quoted his dad saying, "If you can't say anything nice, say something embarrassing." He said that was how he and Lively "rolled." When asked if this was the sign of a healthy relationship, he said he thinks it is.
Should She Worry?
Sometimes, Reynolds and Lively walk the red carpet with other people. For example, the co-stars they've worked with on big films like Woman In Gold, in which Reynolds worked with Helen Mirren. As an answer, he shared an old family adage. He quoted his dad saying, "If you can't say anything nice, say something embarrassing." He said that was how he and Lively "rolled." When asked if this was the sign of a healthy relationship, he said he thinks it is.
Time Flies
In March 2018, during the filming of Deadpool 2, rumors started to spread about the relationship of Reynolds and Lively. According to some news sources, the two were having trouble finding time to spend together during filming. Reynolds was quick to fire back on Twitter to make sure everyone knew they were fine. Of course, he also had to include a joke in his response as well. He sarcastically let everyone know that he wished the rumor was true because he could use some "me time."
Happy Birthday!
As we've seen, Reynolds and Lively's favorite time to roast each other is on their birthdays. This time, Lively posted a photo of Reynolds with his actor pal Ryan Gosling. However, she decided it would be fun to crop her husband out of the photo almost entirely! What better birthday wishes can you ask for? Those two never cease to bring out the humor.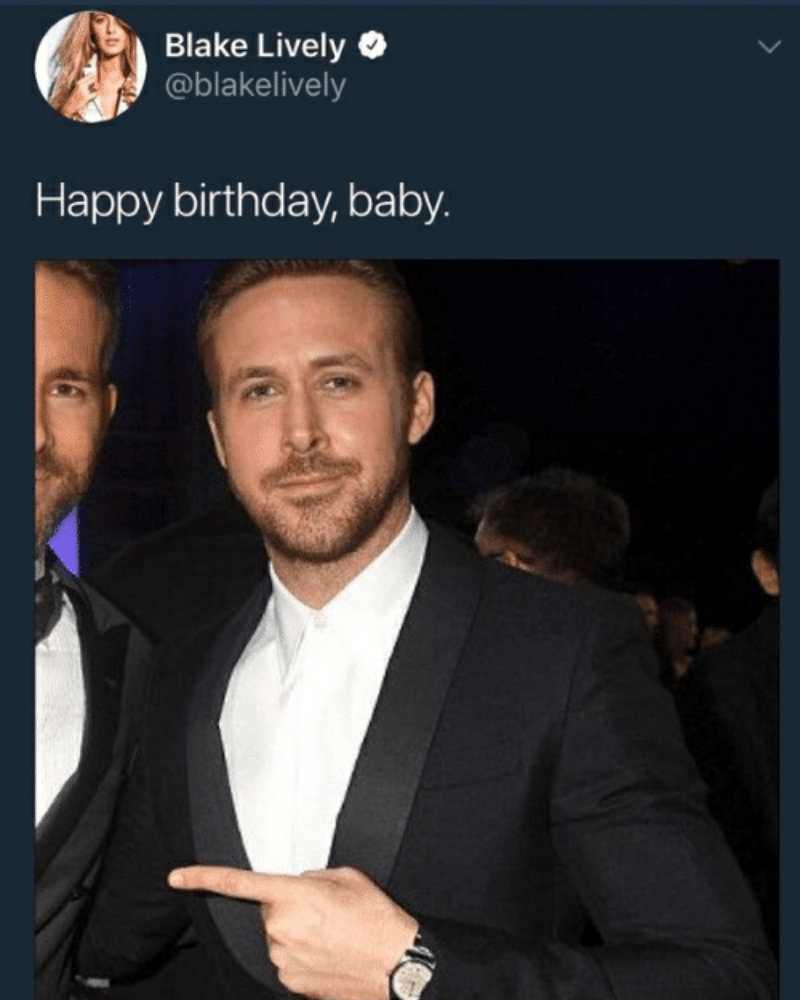 Sweet Revenge
Of course, Reynolds couldn't just let the image of Gosling on his birthday slide without incident. However, he was willing to wait patiently in order to get his revenge on his wife. He waited for her birthday to come around, and offered a heartfelt "Happy birthday to my amazing wife." The post included a picture of the couple on the red carpet together – and he made sure to almost completely crop her out of the picture.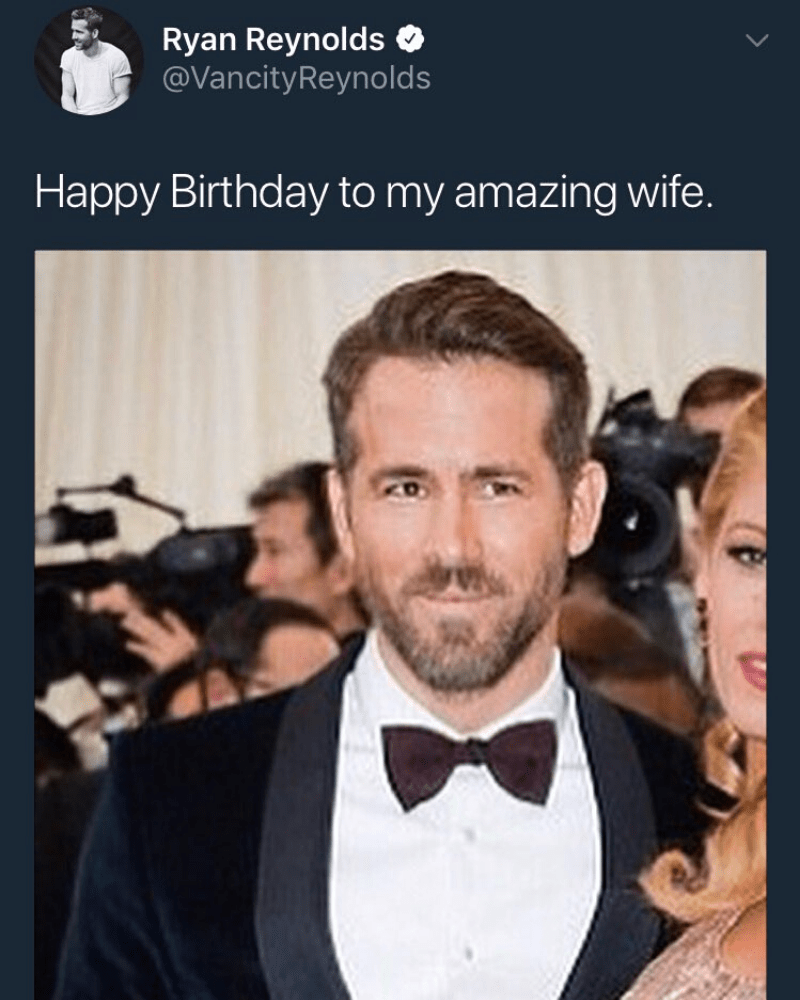 It's Probably You
Lively and Reynolds are happy parents to three children – so it only makes sense that they would take the time to roast each other on Mother's Day and Father's Day. One Father's Day, Lively took a moment to send her husband a message via Twitter. She wished him a Happy Father's Day and said that since their first child was born, she felt strongly in her heart that he was most likely the father. She finished off the jab with a sincere "I love you."
Assigning Honors
Back in 2017, Reynolds was honored at the Time 100 Gala. To mark the occasion, Lively shared an Instagram post about it and inserted a healthy dose of humor. The image shows Reynolds, but he isn't quite in focus. Instead, he's backlit by a performance of John Legend, who was also being honored at the event. In her caption, she congratulates the most influential person in her life… then continues to apologize that her husband is blocking him in the shot.
Not to Be Left Out
The only person who Reynolds regularly roasts online in addition to Lively is fellow actor Hugh Jackman. This stems from the rivalry between their on-screen characters, Deadpool and Wolverine. In this post, Reynolds posted a picture of the two together with a caption joking that he ran into him at a coffee shop. Lively was quick to jump in and ask if the space between the two of them was there to convince her that Reynolds didn't love Jackman more than he loves her.
Dating App Confusion
If there's a joke that Lively and Reynolds come back to time and time again, it's about the use of dating apps. The two didn't hesitate to rehash their joking feud on one of Reynold's posts. First, Lively commented that she wasn't sure why she couldn't swipe right on the photo. Reynolds fired back that it was because she was on the eHarmony app. Not to be outdone, Lively asked her husband how to download eHarmony, since her favorite dating app had been shut down.
Quarantine Won't Stop Them
Considering the current state of the world, we could all use a little levity. Luckily, despite being quarantined at home, Lively and Reynolds haven't slowed down on their social media antics to keep us entertained. Recently, Lively shared a photo of Reynolds with a small ponytail at the base of his hair, and issued a challenge to his admirers. Every time they see him for the "rest of eternity," they have to think about this tiny ponytail he wore.
The Greatest Gift
One summer, Reynolds gave us a glimpse of his sentimental side when he shared an image of a painting that Lively got him. He noted that it was the greatest gift he had ever received. He also took some time to point out all the easter eggs in the painting, as well as details like John Candy on the front page of the paper. He finished off by noting that if there was ever a fire, he'd grab the painting first and then come back for Lively.
Christmas Catastrophe
Around Christmas time, there's a lot to do. From buying gifts to preparing tasty treats, there's no shortage of tasks to complete. Reynolds decided he would take over the task of baking when he made these Christmas cookies. Unfortunately, they didn't turn out as well as he had hoped. Lively was quick to post them on her Twitter with a caption joking that her husband was the next Martha Stewart.
Love at First Sight?
When celebrities fall in love, everyone wants to know the moment it happened. When Reynolds and Lively were asked about their relationship, they had different responses about how their love got started. Reynolds shared that he saw "fireworks" the minute that he laid eyes on Lively. However, she didn't say quite the same. Instead, she said that it took a little longer for her to fall for him and she didn't see fireworks, but joked that "it went well for him."
Baking Is Hard
While he is a talented actor, Ryan Reynolds isn't afraid to admit that he's not the world's greatest baker. Still, he does his best in the kitchen. This time he made a cake for his wife. All in all, it's a cute cake shaped like a heart and covered with strawberry slices – a very sweet gesture. However, he made sure to joke in his caption that "The icing is glue, 'cause I'm not a scientist."
Always Camera-Ready
When we see celebrities most of the time, they're carefully made up and dressed. It isn't often that we see them caught off guard or not camera-ready. However, Reynolds isn't afraid to show the world what his wife looked like off of the red carpet. He shared this photo of her when she was less than camera-ready with a simple "happy birthday" message. With hair blown around while posing for an impromptu selfie, they still look happy to be in each others' company.
What an Outfit
When stars get ready for the red carpet, there's a lot to consider. From outfit selection to the makeup they wear, everything is carefully coordinated. That's why Lively felt free to make fun of her husband when she posted a picture of them together on the red carpet at the All I See Is You premiere. She commented that he "didn't even do one outfit change from the sidewalk." For good measure, she added "lazy" in parenthesis to make her point clear.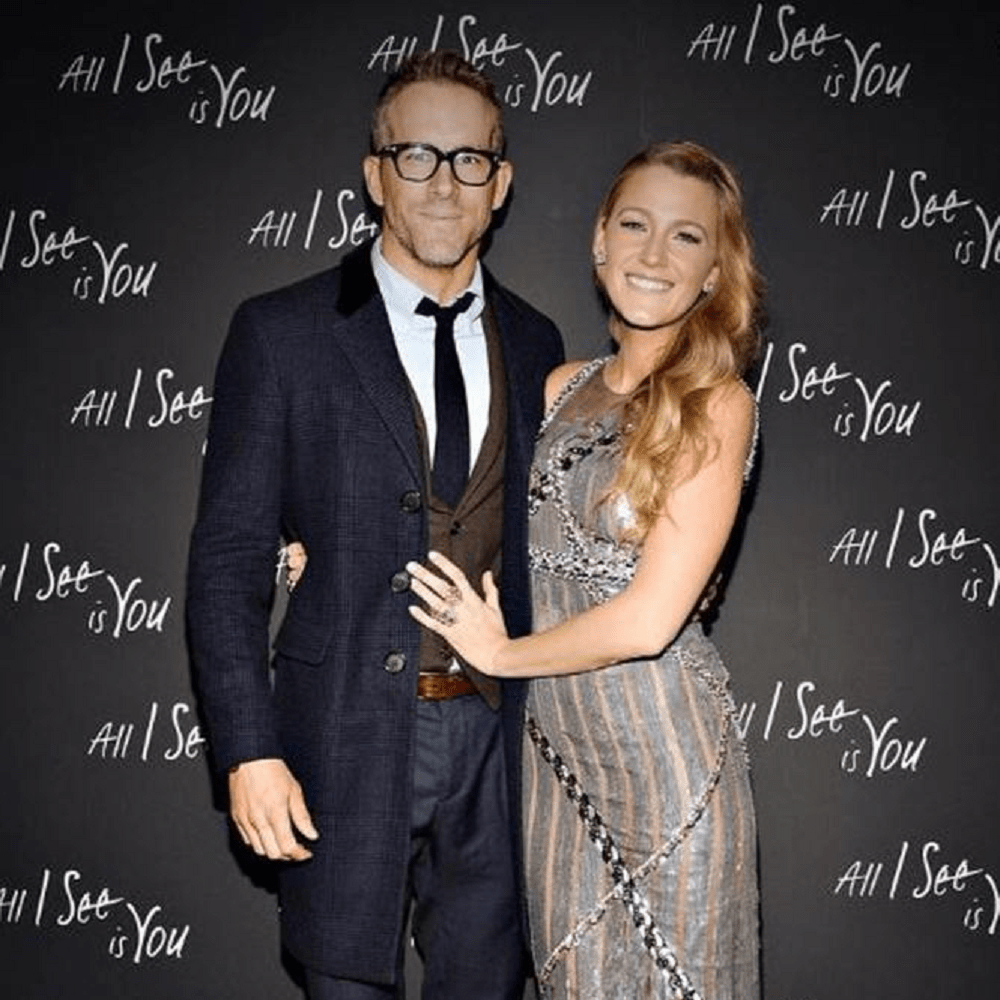 Which One Is He Again?
When it came time for the Deadpool 2 premiere, Lively was ready to show her support. For instance, her "Party Mix" clutch was on full display. She also represented the film with Deadpool nails, an X-Force nail, and a ring in the shape of Colossus' fist. She continued to say that she was proud of her Deadpool, then corrected it to say she was proud of her husband. Finally, she admitted that she just couldn't tell the difference between the two anymore.
Tinder Blues
Recently, Reynolds took a moment to share an Instagram story to promote a popular Hollywood personal trainer that he and his wife both used. The trainer was even responsible for getting Reynolds superhero-ready. Lively saw the story and took the chance to prove that no post was safe. With this picture of the trainer posted, she tagged her husband for a quick jibe. "I keep swiping right," she joked about the trainer, referencing the dating app Tinder.
No Filter
Actors don't always look so glamorous. Just like anyone else, they have days when they leave the house in sweatpants. Funny enough, that isn't even the case here. Rather, Lively was dressed like this for a role she had in a film. Nevertheless, it didn't stop Reynolds from taking the chance to add to his repertoire of savage roasts. With no explanation as to his wife's attire, he just added a simple "#nofilter" to the image.
Method Acting
In order to promote Detective Pikachu, Lively and Reynolds put their superb trolling skills to good use. They created a video talking about Reynolds' method acting for the role. Funny enough, that isn't even the case here. Rather, Lively was dressed like this for a role she had in a film. Nevertheless, it didn't stop Reynolds from taking the chance to add to his repertoire of savage roasts. With no explanation as to his wife's attire, he just added a simple "#nofilter" to the image.
Twin Trouble
For a comedic ad campaign in May 2018, Reynolds released a video in which he was interviewed by his fictional twin brother, Gordon Reynolds. Lively was quick with her response. She noted that "Gordon" was hot and that she made a mistake in her choice of husbands. Reynolds didn't hesitate to throw in a joke of his own assuring her that she hadn't made a mistake but that Gordon had replaced his role in their marriage a year ago.
Nice to Meet You
When the movie All I See Is You premiered, Reynolds jumped online to show his support. In his post, he expressed his excitement for the chance to screen the movie early. He also made sure to extend his thanks and congratulations to Lively's co-star, Marc Foster. On top of that, he noted that he married his wife online, so it was "nice to finally meet her in person" at the event.
Picked the Right One
Sometimes, a picture speaks just as loudly as the caption that is presented with it. That's exactly the case with the Instagram image that Lively shared in this birthday post. The image shows her apparently picking Reynolds' nose while resting contently against his shoulder. Just an odd picture wasn't enough, though – she also had to add a witty caption. Aside from the birthday wishes, she insisted with a well-placed pun that she had "picked a good one," in reference to Reynolds.
Painting a Different Picture
Over the years, Reynolds has had plenty of fun posting pictures of Lively. Many of these pictures have been less than flattering, like images of Lively with her eyes closed or caught off guard. One day, she decided to get back at him with a goofy picture of his own. On her Instagram story, she posted side-by-side pictures of herself and Reynolds. She looks fairly unamused while he smiles and wears a chicken hat. She joked that these two pictures perfectly describe their entire relationship.
Deadpool Round 2
If you've kept track of Ryan Reynolds lately, one of his many successful projects has been Deadpool. Recently, the comic-book-turned-movie welcomed the release of its sequel film. Of course, when the movie came out, Blake Lively was ready to show her support. She shared this image of her and her husband with a caption about how she was ready for round two and that she'd already seen it three times that week. The movie, that is – not her husband.
Setting a Good Example
There is no denying that Deadpool has taken Ryan Reynolds' career to a whole new level. And it seems like Blake Lively is more than happy to tag along for the meta-comedic ride. While posting a photo from the sequel's premiere, Blake wrote a pretty suggestive caption. And in true Deadpool fashion, Ryan was quick to respond with the following: "If someone accidentally teaches our daughters to read someday, they might see this. Get it together."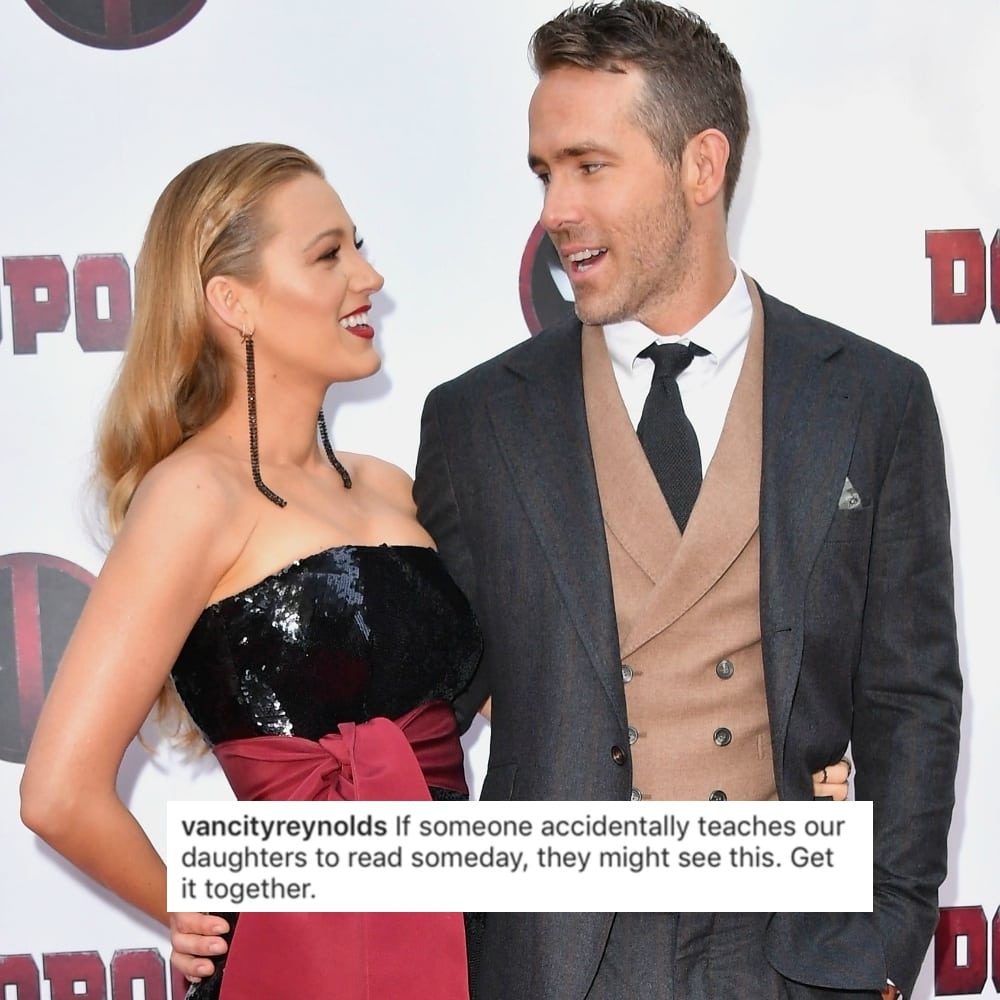 Who Needs the Password Anyways?
Since they have such a high-profile and public relationship, neither Reynolds nor Lively get out of many interviews without being asked about their significant other. Once, an interviewer asked Lively what she thought about the jokes that Reynolds made on social media about her and their children. She was ready with a quick comeback, and just told the interviewer that she had luckily lost her Twitter password a year and a half ago, so she didn't worry too much about it.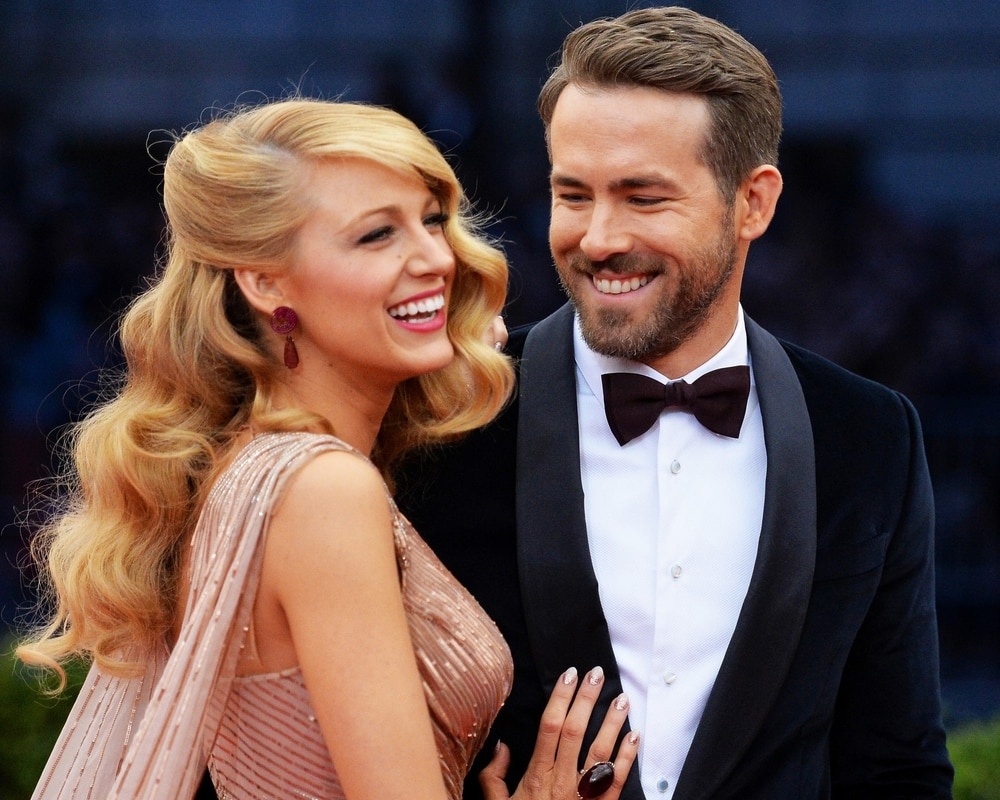 Secrets Kept
When it comes to suspenseful movies, many of us wish we had the inside scoop on the secrets and plot twists as soon as possible. You might think that the spouse of a film's leading actress would have access to all the juicy details. However, Reynolds proved that he wasn't always privy to the plotlines in his wife's movies with this Tweet. He urged her to tell him what happened to the main character in A Simple Favor, trying to use their closeness as leverage – but it doesn't sound like his strategy worked.
Not Telling
Reynold's plea for answers about Emily in A Simple Favor wasn't completely ignored, though. Lively was ready to jump in with a clever response almost immediately after Reynolds tweeted out his question. She didn't answer his question outright, though. She simply noted that of all the secrets she was keeping from him, this one should be the absolute least of his concerns. She even ended the Tweet with an ominous "trust me" for dramatic flair. But of course we all know she was just teasing.
Best Birthday Wishes
As if roasting each other wasn't enough, Reynolds likes to pull their children into the fun as well – and that's exactly what he did with this birthday post. The image shows Reynolds and Lively in party hats and bunny masks, with streamers galore in the background. Then, in the caption, he took a moment to thank both his wife and the restaurant, adding "a special shout out to our children for not ruining everything like they planned."
What Really Counts?
Recently, Lively co-starred alongside actress Anna Kendrick in a A Simple Favor. When it came to promoting the movie, she wasn't afraid to crack a joke or two. Lively shared a poster for the movie on her Instagram with a caption explaining that Kendrick is the "hotter, female(r) version" of Reynolds. Finishing it off, she asks a simple question – since the two are so similar, "Would it reaaaally count as cheating?"
Doppelganging Up on Her
It's amazing what lengths Ryan Reynolds will go to in order to have some online banter with his wife. Sometimes though, he doesn't actually have to look that far for some inspiration to troll Blake. When he was scrolling through Twitter one day, he stumbled across the following story. He automatically thought that this woman slightly resembled his wife and decided to have some fun with it in the comments section. We're sure that Blake was "spooked" by the entire thing.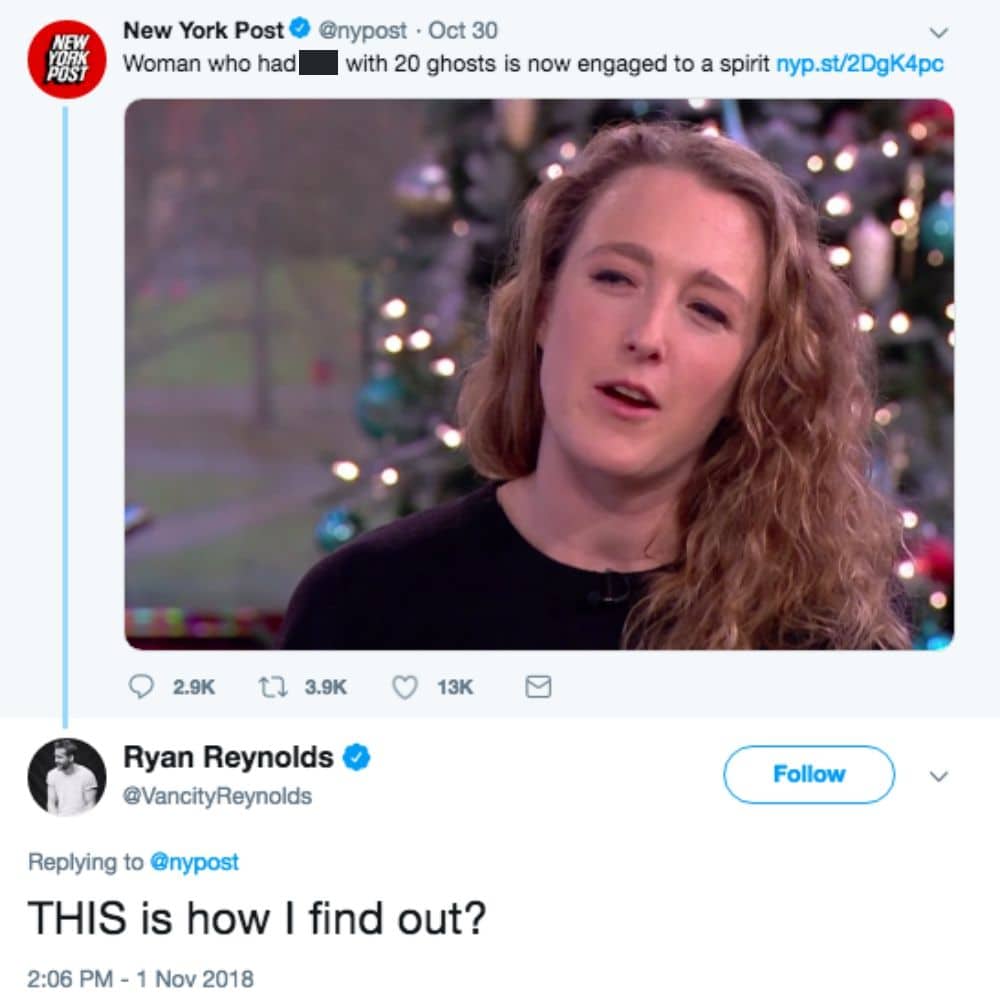 First Date Horror Show
While it is no secret that he likes to poke fun at some of his worst movie roles, Ryan Reynolds also has no problem reminding Blake Lively about some of her more forgettable career decisions. Take this Tweet, for example, which sees Reynolds using a GIF from what he believes to be one of his wife's worst movie appearances, The Shallows. He chose to compare their first date to the following scene. We hope it wasn't really like this.
Not a Van of This
Anyone who is a diehard fan of Ryan Reynolds knows that the actor is the proud owner of a certain company that we will refrain from naming. All you need to know is that the following van is advertising his company and carrying many copies of the product. When Reynolds posted this photo on Instagram, Blake was quick to comment on it. "Who needs a mini van?! I'm driving this from now on," she wrote. "Subtle, gorgeous, and OHMYGAWDYOUREHUGE."
A Powerful Movie
Celebrity couples will go to some extreme lengths to promote each other's movies and Ryan Reynolds and Blake Lively are no different. It is clear that he was very proud of his wife for starring in such a critically-acclaimed movie in A Simple Favor. However, the way he expressed his joy was confusing. We are not entirely sure what Ryan is trying to get at here. It seems strange that he would say such a thing, especially since the couple has already had a bunch of kids together.
A Match Made in Hell
Blake Lively has certainly been overwhelmed with Deadpool stuff over the last few years. This photo was taken back in 2016, when the first installment of the franchise came out. The couple decided to have a casual trip to their local theater to watch the movie and stumbled across this funny throne. They went on to post one of the funniest photos of the year. Of course, the caption also had a huge part to play in its success.
View this post on Instagram
Mother's Day Banter
While the following caption might not seem like the biggest form of trolling that Ryan Reynolds has ever done to Blake, it still has cheeky undertones that make it qualify for this list. Sure, he was able to praise the three mothers in his life on Mother's Day by describing them as wise and strong. However, we don't think all mothers would find the "ability to forever appear as though they're standing at the doorway to their own surprise birthday party" to be the best praise.
Sticking to the Script
Despite being bombarded with divorce rumors for so long, Ryan Reynolds and Blake Lively have managed to debunk these theories through social media and in a variety of funny ways. The actor ended up giving out his email on The Tonight Show and shared his "work schedule" for the upcoming week. While Monday starts off pretty casual with some gym, tan and laundry, it soon spirals out of control and is clearly a joke. To be fair, he probably is this busy.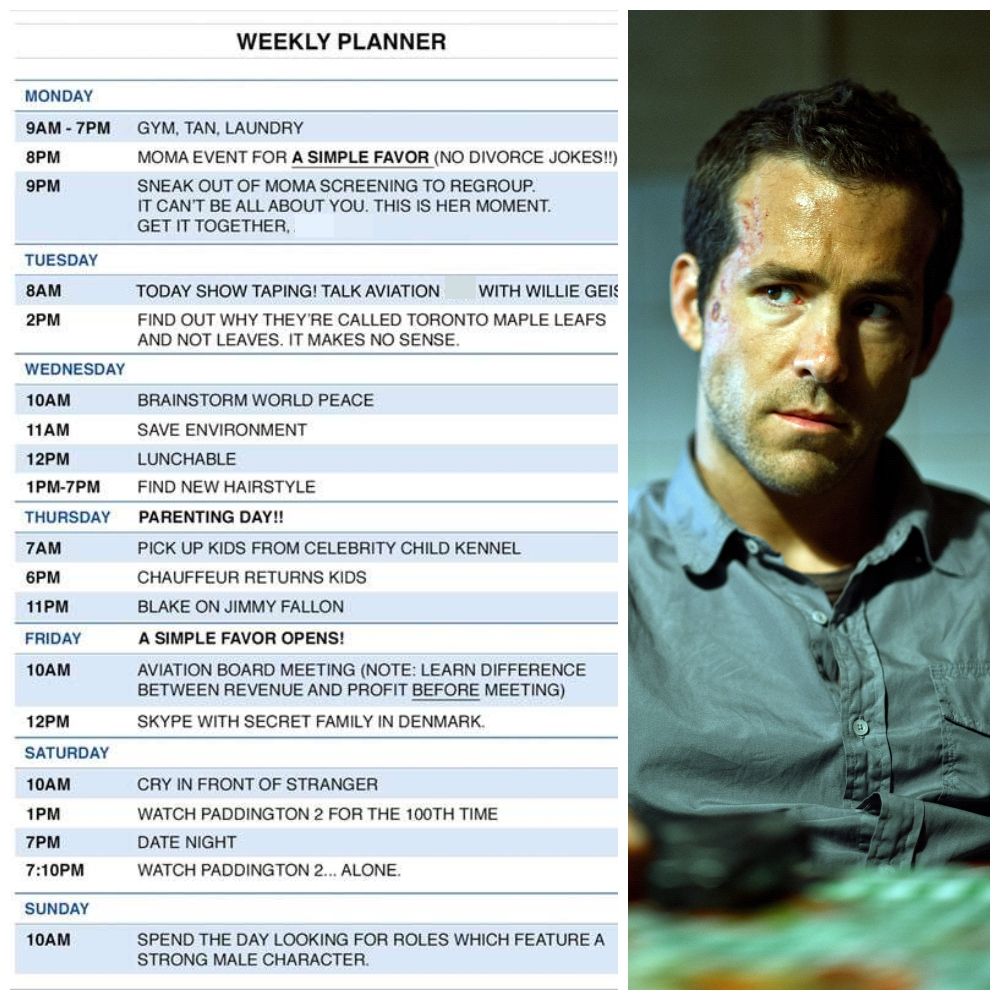 Not Feeling This Triple Date
It seems like Ryan Reynolds isn't the biggest fan of triple dates, especially when they take place during Independence Day. This photo was taken during July 4th, and clearly sees Reynolds and Lively sandwiched between lovebirds Tom Hiddleston and Taylor Swift and another couple. While Blake seems to be having a great time, Ryan's face seems to say it all. Unlike, Tom and Taylor, who are clearly having fun, Ryan just wants to go to sleep already.
A Simple Troll
When Blake Lively was promoting her movie A Simple Favor, she ended up posting the following photo of her standing by a man with his legs wide open. Naturally, Ryan Reynolds was quick to step in and comment on the photo with just the following three words: "He seems nice." What makes the photo even funnier is that, out of all of the examples of trolling that Blake has deleted from her Instagram account, this is one of the only ones that she has kept on her page.
Size Does Matter
It seems like there was a lot of trolling happening when Blake Lively was promoting her movie A Simple Favor. During one of the promoting parties, Ryan couldn't help but have the following photo of himself in front of the following image that clearly shows Blake in silhouette form. Unfortunately, though, it makes him look tiny next to her. "The most surprising thing about the @asimplefavor party wasn't finding out I'm only four feet tall," he wrote. "It's learning I'll probably die alone."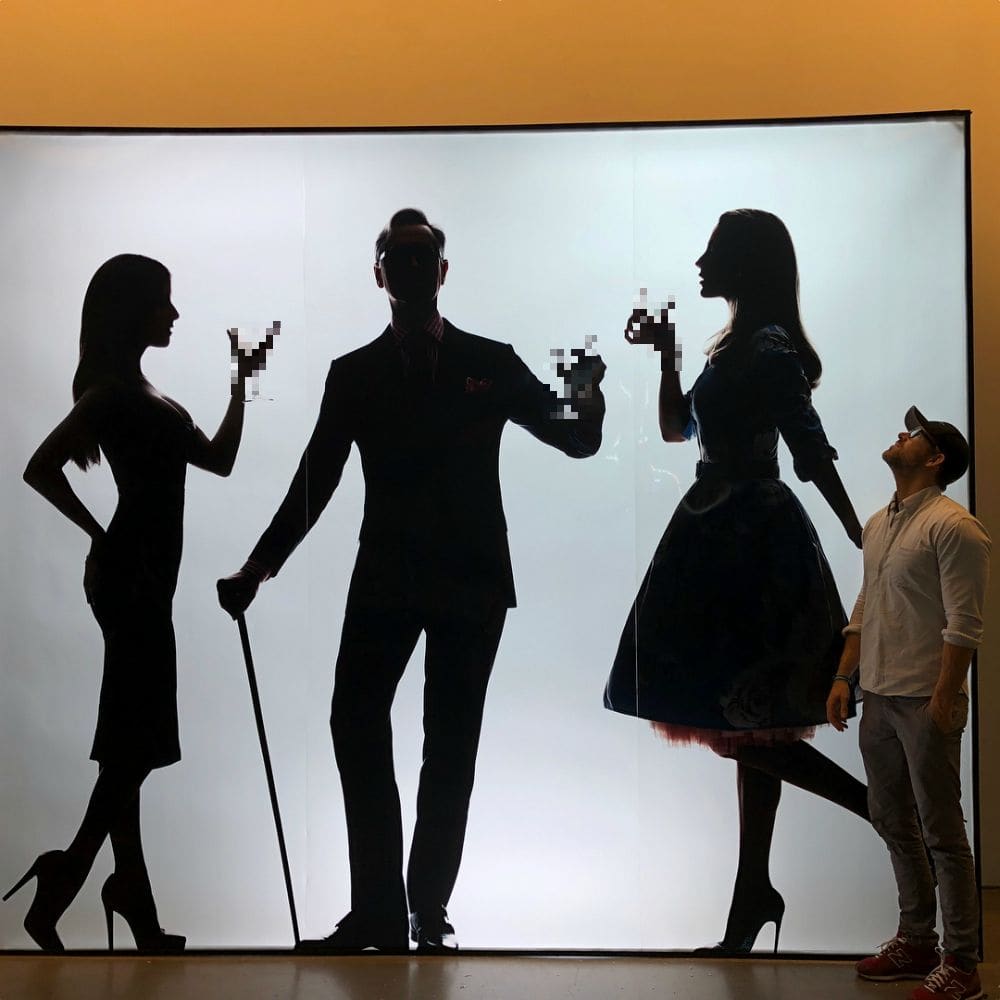 So Many Terrible Pics
The photo of Blake with her hair blown by the wind wasn't the only one that Ryan Reynolds include in that unsatisfying birthday Instagram post. The actor went all out, looking through his phone for the most embarrassing photos of his wife and creating a whole gallery of awkward moments that should have been unforgettable ones. Some of them include Blake sitting in a cage while holding a Barbie doll, while others show not being able to keep her eyes open during some attempted selfies.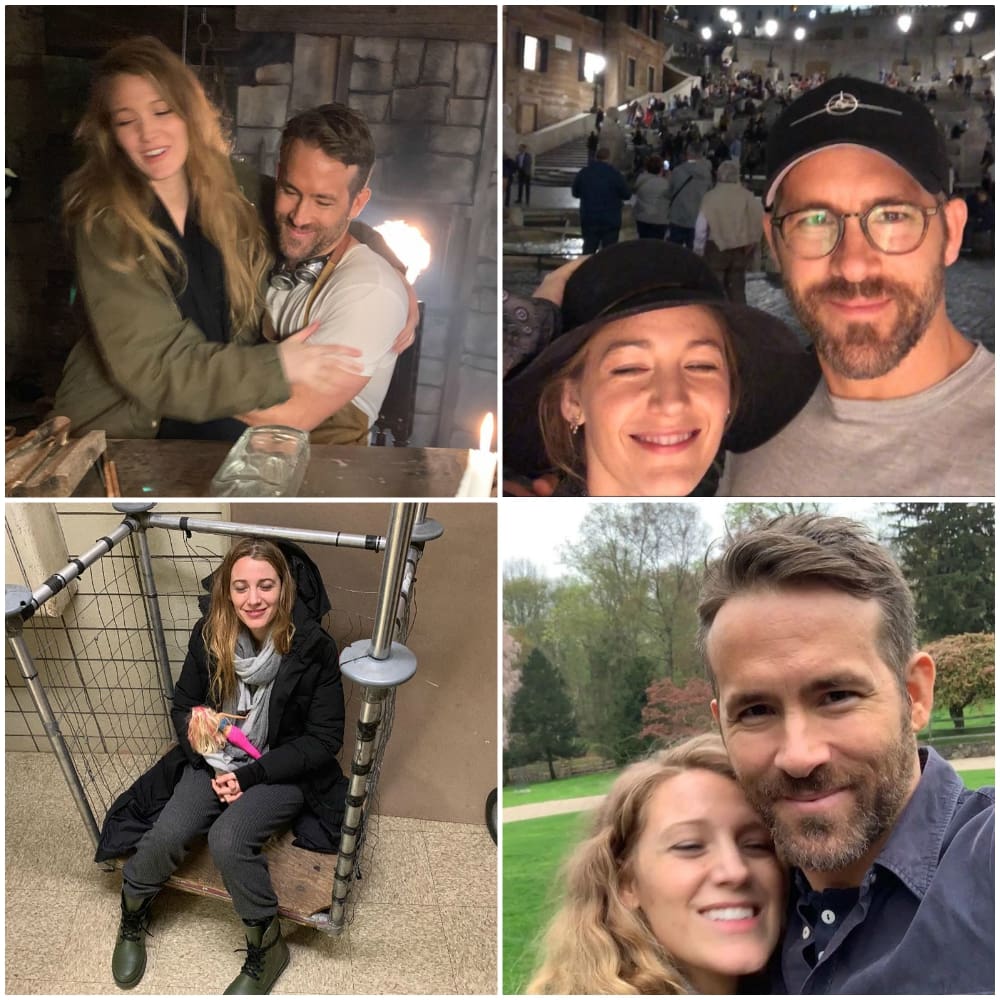 Inspiring Others
It was just a matter of time before Ryan and Blake's incessant trolling on social media had an influence on those around them. When Reynolds was working with the likes of Samuel L. Jackson and Salma Hayek on the movie The Hitman's Bodyguard, it appears that his co-stars started to adopt similar habits on social media. Paying homage to the couple's birthday messages, Hayek posted a similar photo of her with Reynolds. "Happy Birthday to one of my dear friends Ryan Reynolds," she wrote. "Love sharing the screen with you."
Jealous Guy
It seems like many celebrity couples are more than happy to promote each other, especially when they have movies coming out. Part of this push is posing on red carpets with co-stars who you aren't necessarily married to. Like Michiel Huisman, who starred with Blake in the movie The Age of Adaline. However, Reynolds was justified to write the following tweet when Lionsgate Movies made the huge error of assuming that Lively and Huisman were actually a couple.
Family Goals
It is clear that Ryan Reynolds and Blake Lively have built a beautiful family together. However, this doesn't mean that they have become any less funny. While posting this adorable photo of the family of Twitter, Ryan made sure that there was some trolling involved to ensure that it wasn't too cheesy. He made sure to undermine his wife at the best possible time. "3 of the most beautiful, considerate, and loving people I've ever known, and then there's Blake," he wrote.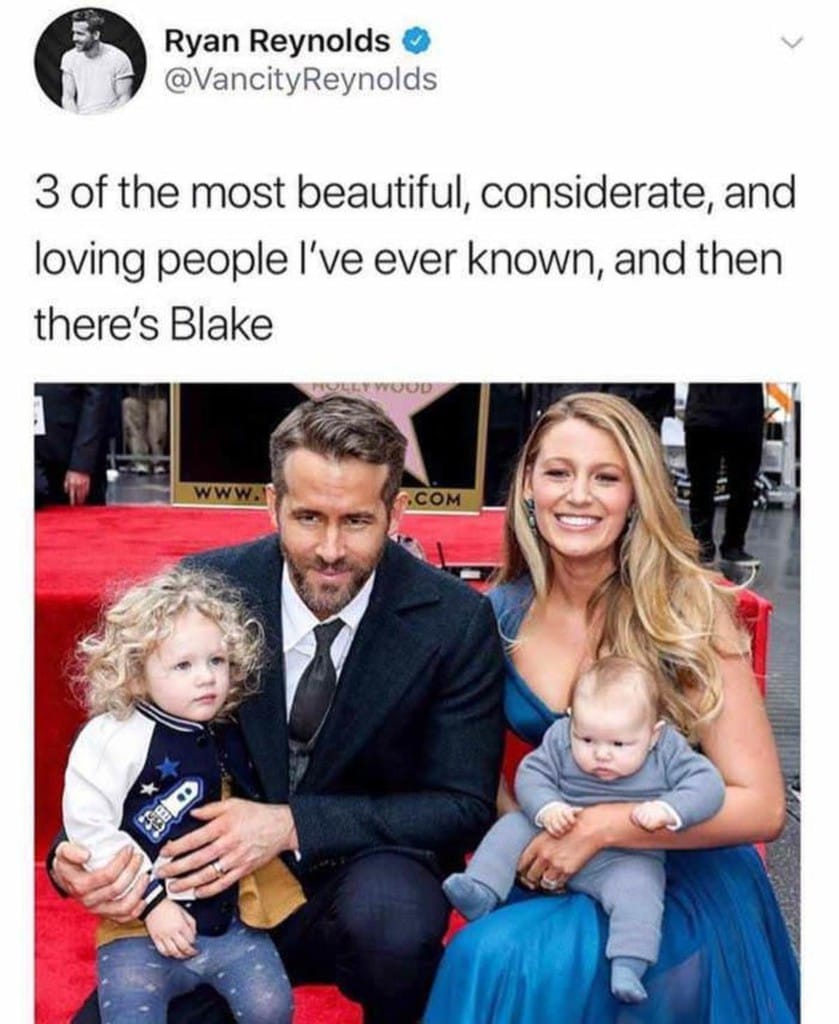 No Hands!
When you learn to do something impressive, it's natural to want to show off a little bit. That's exactly what Reynolds did when he learned how to ride a motorcycle with no hands. He was quick to offer some advice to fans. Namely, don't try this at home – especially if you're in your living room. However, Lively wasn't about to allow her husband to get away without a little behind-the-scenes drama. She mentioned that the reason he knew it was a bad idea to do this in the living room was because he'd already tried it!
Billy Ray's Birthday
For the Reynolds/Lively family, birthday wishes are the perfect way to troll one another. On yet another birthday, Reynolds took the opportunity to roast his wife as a birthday gift. As it happens, Blake Lively shares a birthday with country music singer Billy Ray Cyrus. So, on Blake's birthday, he made sure to wish Billy a happy birthday first. He finished off the message with an added note of, "Also, happy birthday to my wife."
What Does She Think?
If there's one thing that Reynolds has heaps of, it's adoring messages from fans. In fact, sometimes his inbox is flooded with inappropriate content. One fan asked Reynolds a fairly reasonable question – what does Lively think of all the strangers messaging her husband? Reynolds wasn't afraid to have some fun with the answer. He simply responded that maybe the fan messages were actually coming from her. After all, he continues, they sound like something she might write.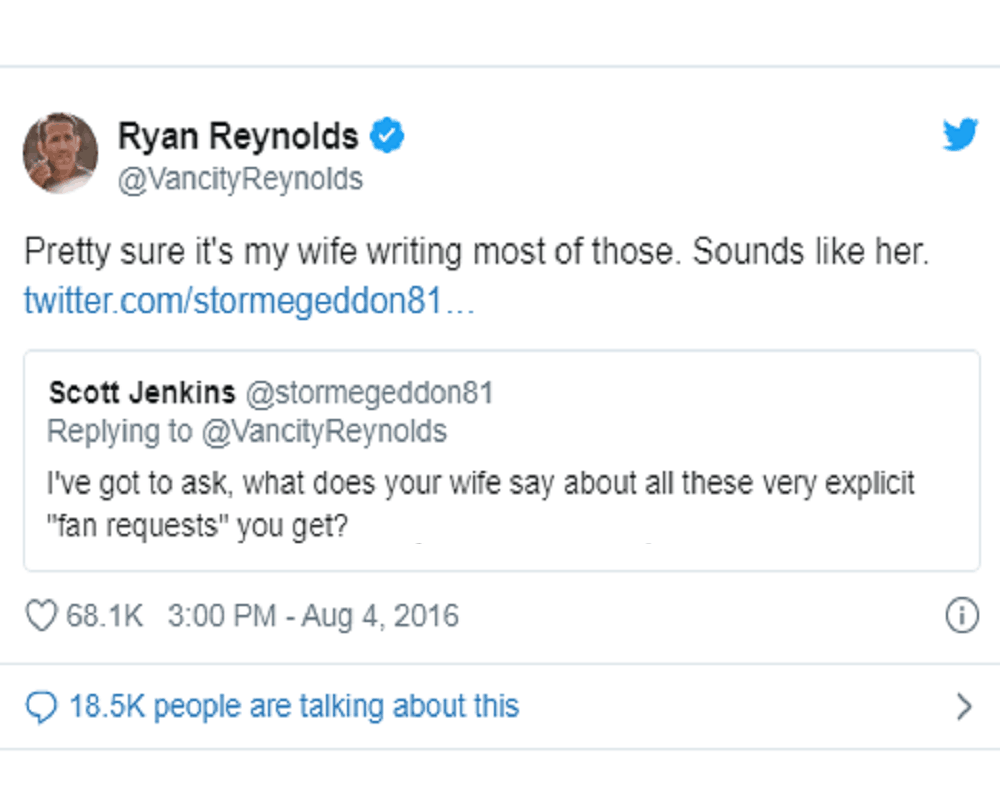 Priorities
Lively is great at trolling her husband in both subtle and direct ways. She took a chance to be a little more direct with this Instagram post. In this picture, we can see Lively with her back to the camera, and Reynolds smiling at her. She added a simple caption noting exactly what she was proudest of in this photo. Instead of mentioning her husband, though, she drew attention to her hair which she had done herself for the event.
Rumored Again
Time and time again, Lively and Reynolds have faced the scrutiny of the Hollywood rumor mill. More than once, they've been wrongfully rumored to have marital issues or even rumored to be on the edge of a split. When Yahoo Entertainment highlighted an image of them with Reynolds' mom on the red carpet despite separation rumors, he had a comeback ready and waiting. He said that no matter how crazy his mom got with her "rollerblading friends," he would never split from her.