Jason Bloomberg, a celebrated contributor to Forbes Magazine, wrote an article titled Seven Lies Bitcoin Fans Tell Themselves (And Anyone Else Who Will Listen), which struck a nerve among many people and carried a great impact amongst the just shy of half a million people who read it.
Bloomberg stood his ground in asserting the deception of what aficionados call altcoins, and released a sequel article to explain why those who were quick to judge his notion should take a long, hard look in the mirror.
His first notion was that the cyber currency is not like anything else, by which he meant that although there are several similarities between Bitcoin and the US Dollar, the differences outweigh the similarities by far, and the false comparison between the dissimilar things is, by essence, a false analogy.
Readers asserted that "Such responses are examples of the black and white fallacy: assuming that for a given argument, only the two most extreme positions are under consideration. Such extremist thinking pervades the cryptocurrency world."
The second "lie" noted was the fact that Bitcoin is a cryptocurrency, but the 'crypto' (meaning 'secure') was far from true, as the online currency proved to be "appallingly easy to steal, and even easier to lose."
His sequel article did not reference a counter argument provided by his readers since he either did not see fit to do so or did not receive a claim that proven powerful enough to contradict.
"Never lose sight of the difference between 'paper profits' and real profits," wrote Bloomberg, and quickly explained that in order to make "real" money and generate an actual profit, one would need to sell their Bitcoin.
If, in fact, Bitcoin was true to life, useable money and a valid currency, it would not have been the case. The truth is, as Bloomberg explains that the more people decided it is time to sell and take their cut of the purchased cyber currency, the lower the price will drop.
To finish off his many other arguments, Bloomberg closes off with the following controversial statement: "At least you can play Monopoly with real Monopoly money."
How Getting a Divorce Saved Demi Moore and Bruce Willis' Relationship
When Bruce Willis and Demi Moore got divorced it actually helped them save their relationship. Let us take a stroll down memory lane and follow the path that led them to have such an amazing friendship that even a worldwide crisis could not separate them.
Red Carpet Meeting
In 1987, Demo Moore was engaged to another up and coming actor, Emilio Estevez. The two had met on the set of St. Elmo's Fire and were engaged not long afterward. To support her man, she attended the premiere of his buddy cop film, Stakeout. Among the star-studded parade of actors attending was Bruce Willis.
They crossed paths during one of the after-parties, and needless to say, the rest is history. In her new memoir, she discusses what happened and what her first impressions were.
First Impressions
Apparently, she had heard things about Bruce from people in her circle – and heading into the meeting, her preconceived impression was not that great. "My impression was that he was a jerk; however, Bruce was so gallant," Moore said.
Demi was taken with his boisterous yet gentlemanly air. He must have been unaware of her relationship status because he took this time to make a few advances in attempt to woo the young actress.
A Number and A Limo
During their conversation at the after-party, Bruce asked for her number. Not having any paper, he stuck his arm out and let her scroll it across his skin. Demi thought that was it for the night.
But according to another story in her memoir, Bruce rode up alongside her car on the freeway. He stuck his head up out of the sunroof of his limo and yelled, "Hey Demi!"
Fiancée No More
Unfortunately for her fiancé, Demi was taken with Bruce – and it was not long until she was single and ready to mingle.
Demi and Emilio were engaged for two years before she felt a shift in her feelings. It was not long after meeting Bruce that Emilio and Demi officially called it quits.
They Begin to Date
In September of that same year, Demi and Bruce went public with their relationship. Their first official outing was attending the Emmys together.
For a whirlwind few months, Bruce used his abundant resources to wine and dine Demi, sweeping her off her feet. No one could argue that the relationship was moving in the right direction, and was moving quickly.
Demi in Secret
Flying from place to place on a private jet, the couple would eventually find themselves en route to Las Vegas, where they spent some time "in private."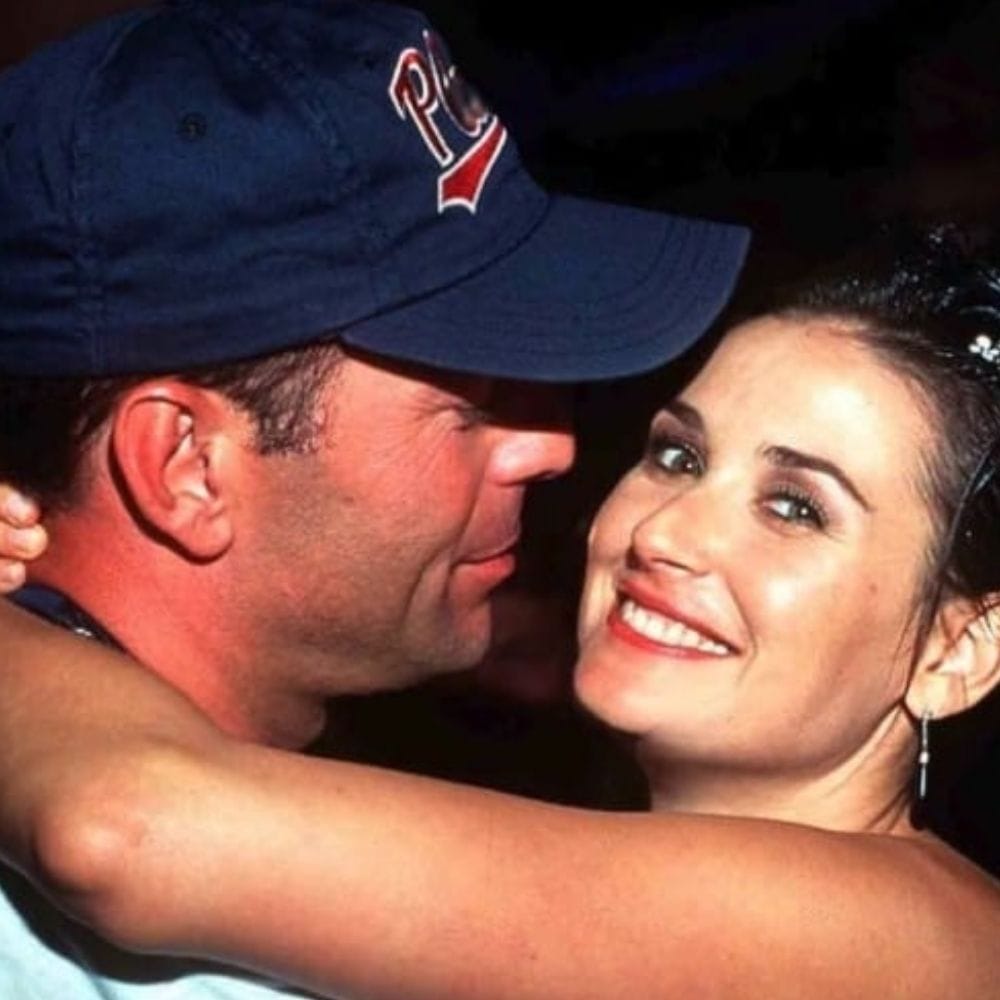 And as we all know, what happens in Vegas stays in Vegas, right? Well, not so much for this smitten couple, as they would soon find out.
Vegas Wedding
Vegas is one of those places that can be very intoxicating, and these two lovebirds got swept up in the emotions and the bright lights and ended up tying the knot in the Golden Nugget suite!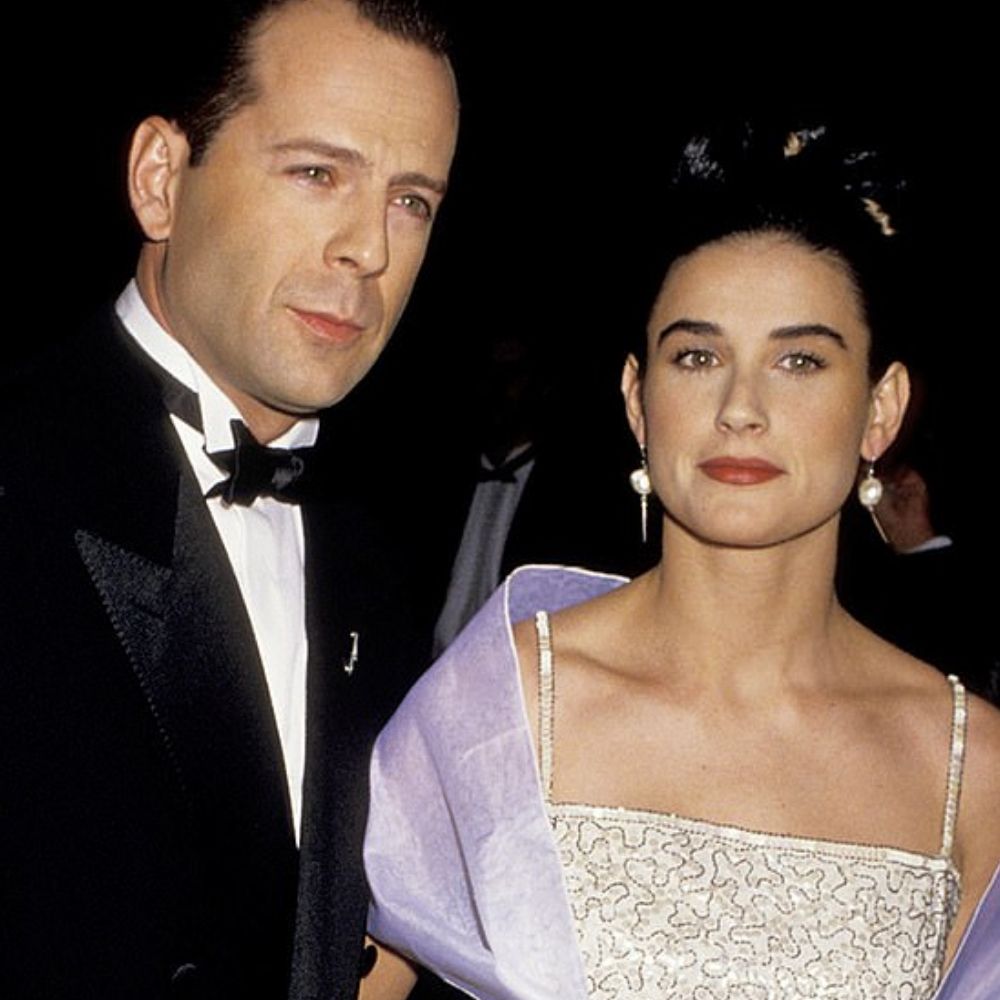 In between moving from table to table on the casino floor, Demi remembers Bruce saying, "I feel we should get married." On their way to Vegas, they had been joking about it – but when he said that, he looked profoundly serious. So she said yes, and just four months after starting to date, they promised to love each other forever.
Hollywood Sequel
Though they had already become man and wife, none of their family members or friends were there to witness their wedding. So a month later, they did it up again – this time, Hollywood style.
The wedding was as lavish as you would expect, with the high-profile guest list this power couple had. Not only did they have many famous friends in attendance, but the actual ceremony was officiated by the great music legend Little Richard.
Rumer Has It
This couple did nothing at a slow pace, and that includes starting a family. Like most couples, they enjoyed a little honeymoon after they got married – and that's when they may have planted the seeds for their new family.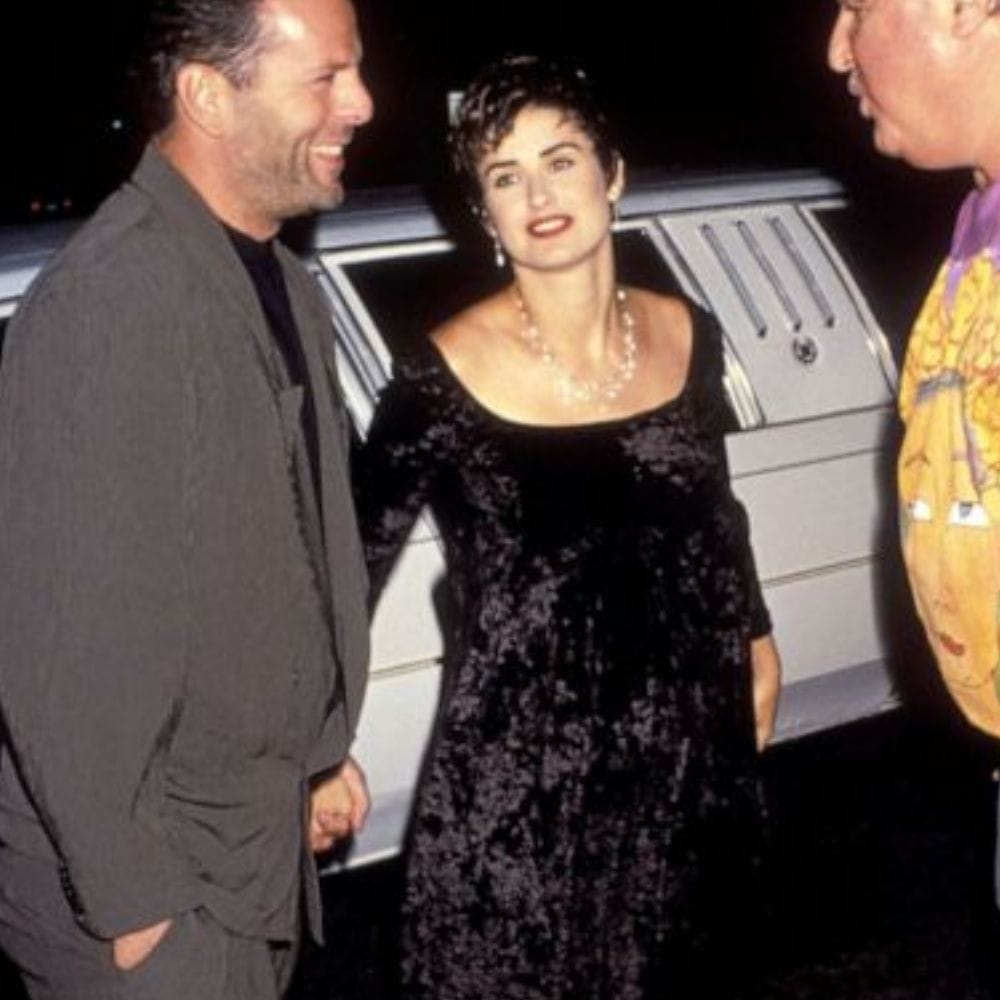 According to many sources, the couple swore that their first child, Rumer, was conceived on the very first night of their honeymoon. As we've seen, this couple's romance was like a tornado – so this was very likely to have been the case, especially when you do the math.
First Child
Just nine months later, in August of 1988, Rumer was born. The couple's relationship had progressed at a record speed. "When reality set in, I do not know if we actually knew each other," Demi says in her memoir.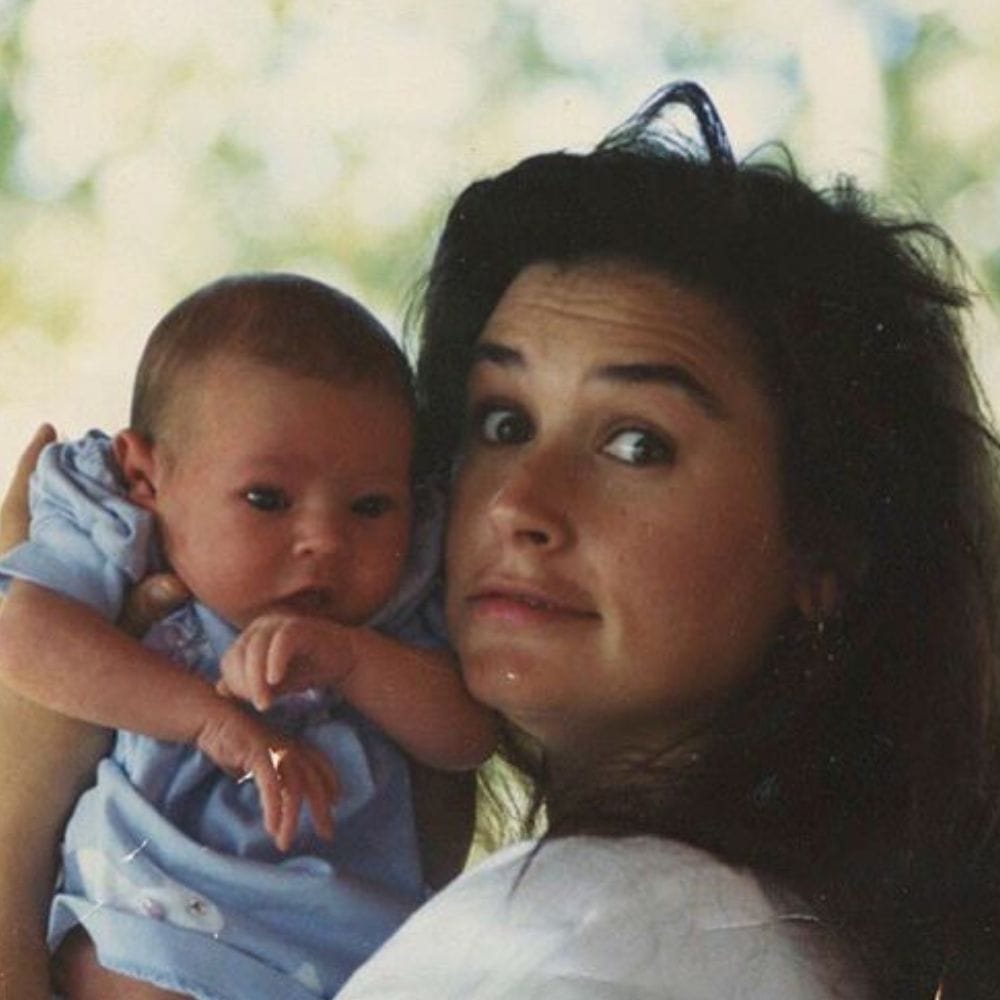 They got caught up in their infatuation, and in no time, they had gone from a whirlwind love affair to a domestic life together.
Let's Move to Idaho
After their first child was born, the couple felt like they wanted to raise their family away from the bright lights and paparazzi of Hollywood. In order to do that, they decided to relocate to a rural part of Idaho.
Purchasing a ranch, the two commuted to their jobs and had a pleasant and somewhat normal life when not in the Hollywood spotlight. They lived this way for the entirety of their marriage.
Two More Bundles of Joy
Over the next few years, the couple added to their family with the births of two more daughters. Scout was born in 1991, followed by Tallulah, who was born in 1994.
While raising their three daughters, the couple saw their careers begin to take a turn – and this meant that there would be many more challenges up ahead.
Becoming Rising Stars
During this time, Bruce had been the star of many action films like Die Hard and Pulp Fiction. He had seen his fame rise after the first Die Hard, and this had brought him many other exciting projects.
Demi had also seen some growth in her career with movies like Ghost and Indecent Proposal. She had blossomed from a teen movie star into a serious actress. This elevation of the couple's Hollywood status would lead to some lifestyle changes.
Juggling Life and Career
Making time for both their careers and their family would take a bit of a toll on their marriage, according to Demi's memoir. In order to balance their obligations, they had to time their filming schedules so that they both wouldn't be away from home at the same time.
They were fairly successful in juggling their careers and family life, and despite all their stress, managed to become one of Hollywood's "it" couples.
Demi Predicts the End
There had already been quite a bit of gossip about the couple's fragile relationship even back in 1991 when Demi was pregnant with her second daughter, and was asked to pose for her infamous Vanity Fair magazine cover.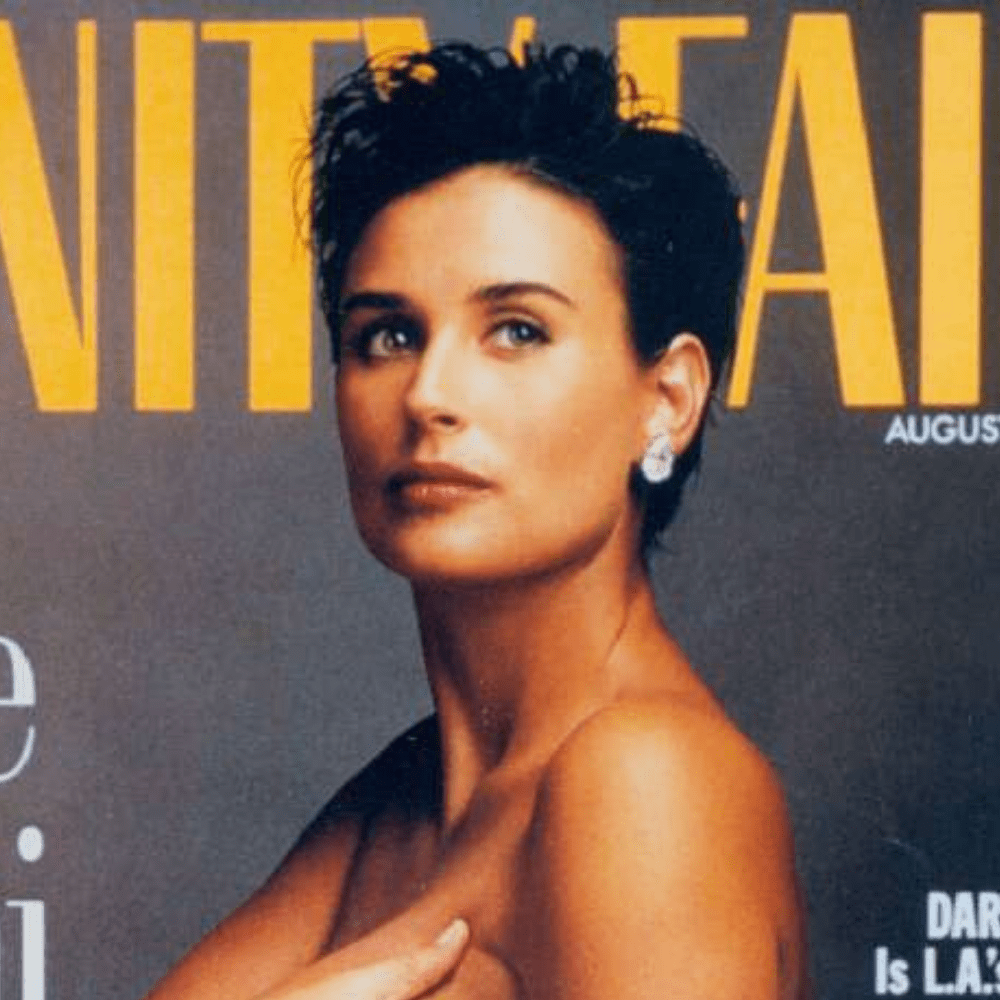 In the article that goes with that illustrious pregnant pose, Demi inadvertently predicts the future by saying that "the gossip will not cease until someday it becomes true." Fast forward twenty-something years later, and the truth is finally revealed by Moore in her memoir.
Bruce Willis the Playboy
The couple had many issues, and Bruce discussed some of them in his 1996 Playboy interview. In this interview, he shared his thoughts on monogamy and many other issues. On top of his view that all men eventually lose interest in their partners, he also wanted Demi to stay home with the girls.
Demi has said that Bruce preferred her to stay home and raise the girls rather than continuing to make films – and that "he wanted to do whatever he wanted to do." The couple turned out to have very different ideas of what marriage should be.
Time to Go Our Separate Ways
After eleven years of juggling family, career, and personal issues, the couple finally announced that they would be separating. A spokesman for Willis released a short statement that said, "Bruce Willis and Demi Moore have announced that they are ending their eleven-year marriage. They were married on November 21, 1987."
Like in all Hollywood divorces, many things had to be worked out – so it took several years before the divorce was finalized.
The Divorce is Finalized
In 2000, Demi and Bruce finally became free of each other – though the couple had already lived separately for at least two years. They had very different movie schedules, and this had played a huge part in the actual deterioration of their marriage.
Even with their hurt feelings, the two wanted to be good parents – and that would mean some hard work on their friendship and some unique parenting strategies.
Co-Parenting Skills
After the two split, Demi would talk about how they managed to be such good co-parents. They were able to put aside their personal grievances and focus on their daughters.
Demi has said, "I think Bruce was afraid that I would make the divorce tough and that I would keep him from seeing the girls. That is what a lot of divorcées go through, but I didn't use the girls as a weapon, and neither did he."
Demi Steps Out of the Spotlight
After the divorce and with three young girls, Demi needed some time away from the spotlight. She retreated to the safety of her Idaho home. It would be a couple of years before she would be seen again on the silver screen.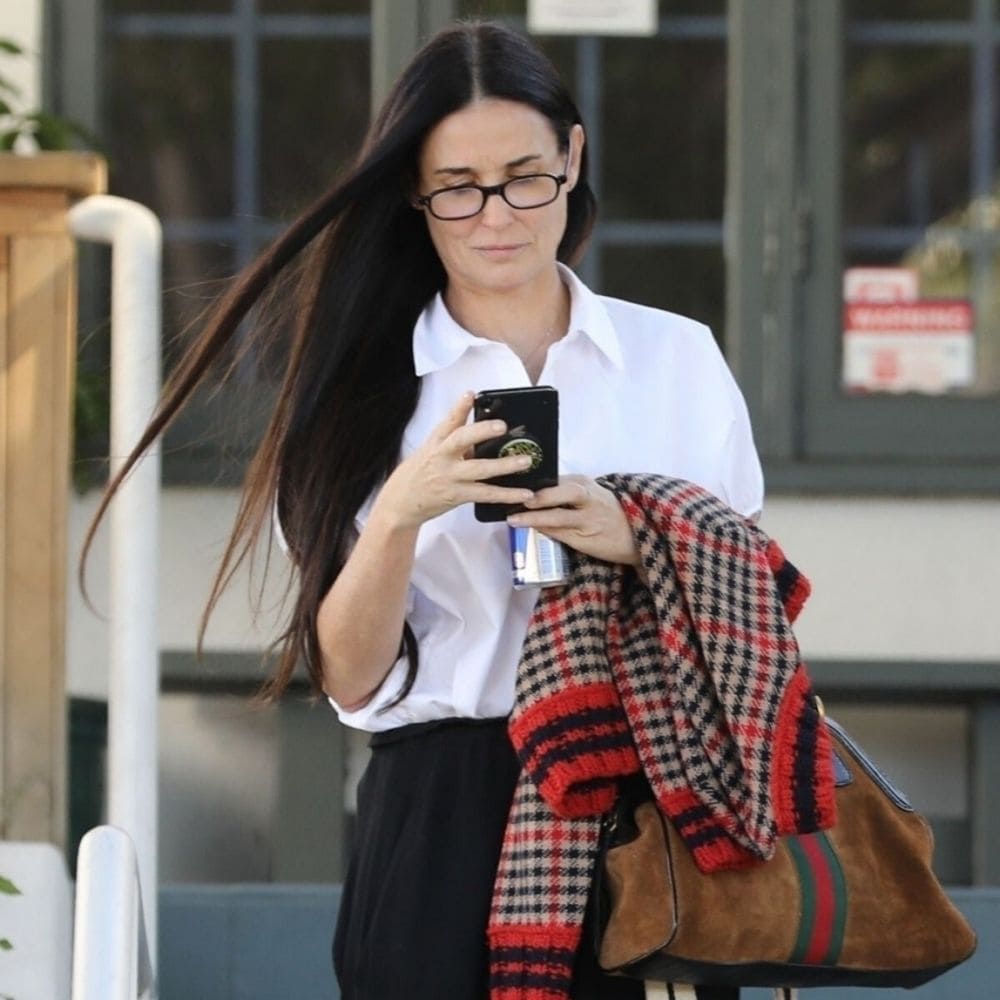 During this time, she worked on herself and her personal life. But eventually, she got tired of being out of the spotlight and started looking for a new project.
Triumphant Return to Action
Demi hadn't been in a movie in over five years, and many of the producers she approached would say, "We don't know what to do with you, or where you will fit in." Demi wasn't quite sure what they meant by that, but she kept persevering.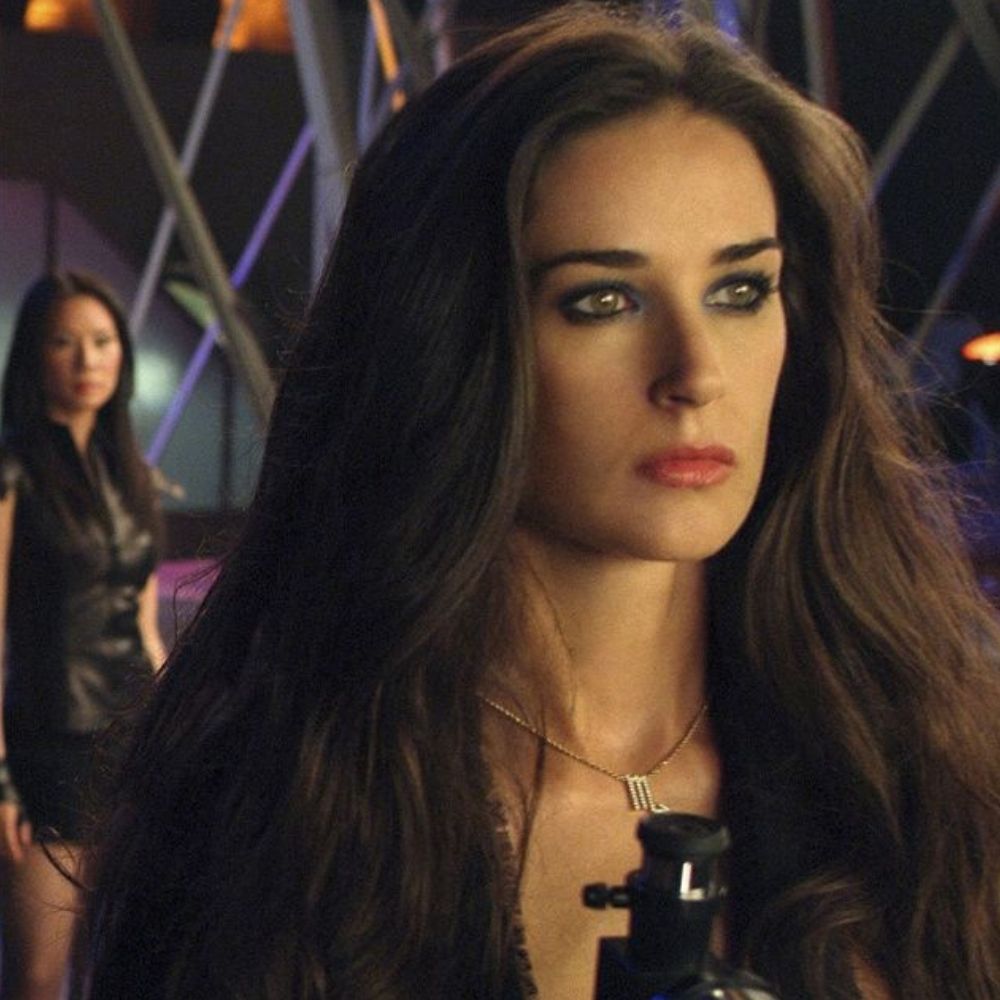 Eventually, she scored a cameo in Charlie's Angels: Full Throttle. She was in the best shape of her life at age 41, but the roles for women her age were not as plentiful.
Demi Starts Dating
Her mediocre return to Hollywood would have an unexpected side effect… she would find love with a new beau. In fact, as she filmed her cameo, she met Ashton Kutcher, who was quite a bit younger than her.
At the Hollywood premiere of the movie, she and Ashton walked down the red carpet as a couple.
Age is Just a Number
Though there was a sixteen-year age difference between them, the couple did not seem to let this affect how they handled their relationship. In fact, Demi looked at this new relationship as a way to relive her twenties.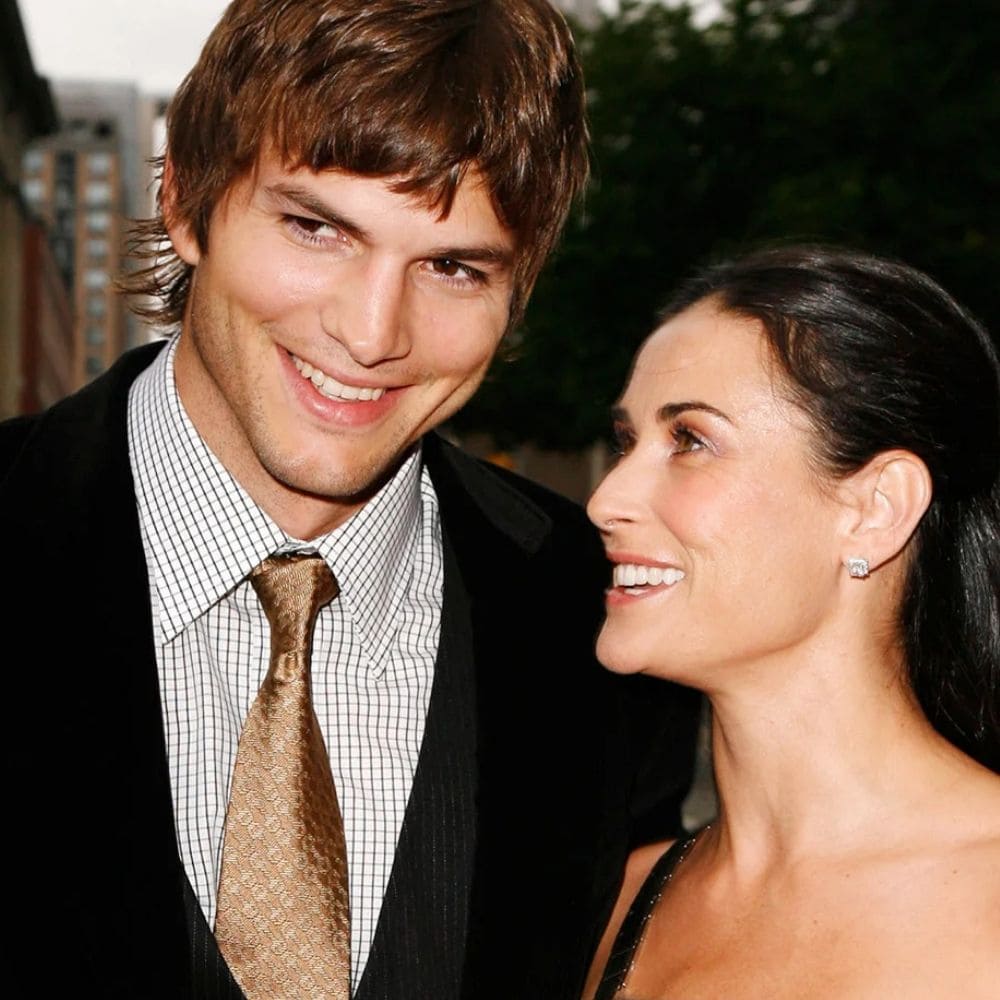 Demi would allow herself to revisit her youth and experience things for the first time with Ashton. The two maintained a healthy friendship with Bruce Willis, making them quite the trio.
Demi Says I Do Again
Demi and Ashton dated for two years and finally tied the knot in September of 2005. It was a small ceremony with only 100 of their closest friends. Among the guests were Wilmer Valderrama, Lucy Liu, and of course – Demi's ex, Bruce Willis.
Many fans thought it was strange that Demi's ex would be invited, but those close to Demi and Ashton were not surprised.
Ashton and Demi Miscarry
Demi had wanted a baby with Ashton, and they found themselves pregnant – but unfortunately, after six months, Demi miscarried. "Ashton did his best to connect with my grief… but he couldn't really understand what I was feeling," she shares in her tell-all memoir.
The now 42-year-old actress had a hard time mourning the miscarriage as well… "I tried to allow myself to mourn, but it was confusing." The couple continued to try for a baby, but after no success, they gave up on their dream.
Bruce Finds Love Again
After the breakup with Demi, Bruce struggled to move on. "I spent the last ten years single and, for a greater part of that, sad." Eventually, a couple of friends introduced him to Emma Heming, and the two began dating.
The two dated for a year, and in the spring of 2009, Willis and Heming married. In an intimate ceremony, the two said their vows in front of their close family members, including Bruce's children and his ex-wife, Demi.
Another Separation
"It's with disappointment and a heavy heart that I have decided to end my six-year marriage to Ashton," Demi wrote as she made the separation known to the public.
She goes on to say, "As a woman, a mother and a wife, there are values and vows that I hold sacred, and it's in this spirit that I've chosen to move on with my life." This fed the rumors that the reason for the split was Ashton's wandering eye.
Demi and Ashton Make It Final
Two years after they separated, the two finally filed for divorce. In 2013, the divorce was finalized and the two were free to move on. Ashton would eventually find his way to marrying his co-star from That 70's Show, Mila Kunis.
Ashton and Mila now have two children together. Demi really hasn't dated much since then, but has worked on herself and her relationship with her family.
My Parents Rock
Rumer said in an interview with Larry King in 2015, "I have never had to split vacations or birthdays. They always made an effort to do all the family stuff together, and that made an impact."
It seems that the effort which both Bruce and Demi made to keep their family unit intact has garnered appreciation from all three of their girls. Unlike many Hollywood couples, they put their kids first despite their failed marriage.
Bruce Adds to the Family
The warm family feeling would continue with the addition of two more daughters Bruce had with his current wife. The five sisters are close and spend a lot of time together. The entire family gets together for events and is a perfect example of a blended family.
Rumer and her siblings have sleepovers and do all the same sisterly things they would have done if they had grown up in the same house.
Demi Roasts Bruce
Comedy Central likes to throw roasts for famous people, and in 2018 they decided it was time to do one for Bruce Willis. One of the guest speakers was none other than Bruce's ex, Demi.
"For those of you that don't know me, I'm Demi Moore. I used to be married to Bruce for the first three Die Hard films, which is smart as the last two sucked!" The fact that they could share this moment of humor shows what type of friendship they have developed.
It's Time to Renew Those Vows
Returning to his island house in 2019, Bruce and Emma renewed their vows in front of their loved ones. After ten years of marriage, the couple wanted to recommit themselves to each other, and they wanted to do it in front of those who were closest to them.
One of their close friends in attendance was Bruce's ex, Demi. Along with her daughters, Demi celebrated with the family and expressed her happiness for the father of her children who had now become a close friend.
Moore's Inside Out
Demi's memoir was published in the fall of 2019. In it, she shared intimate stories and bore her soul with utter honesty. The release of the book was a big moment for Demi.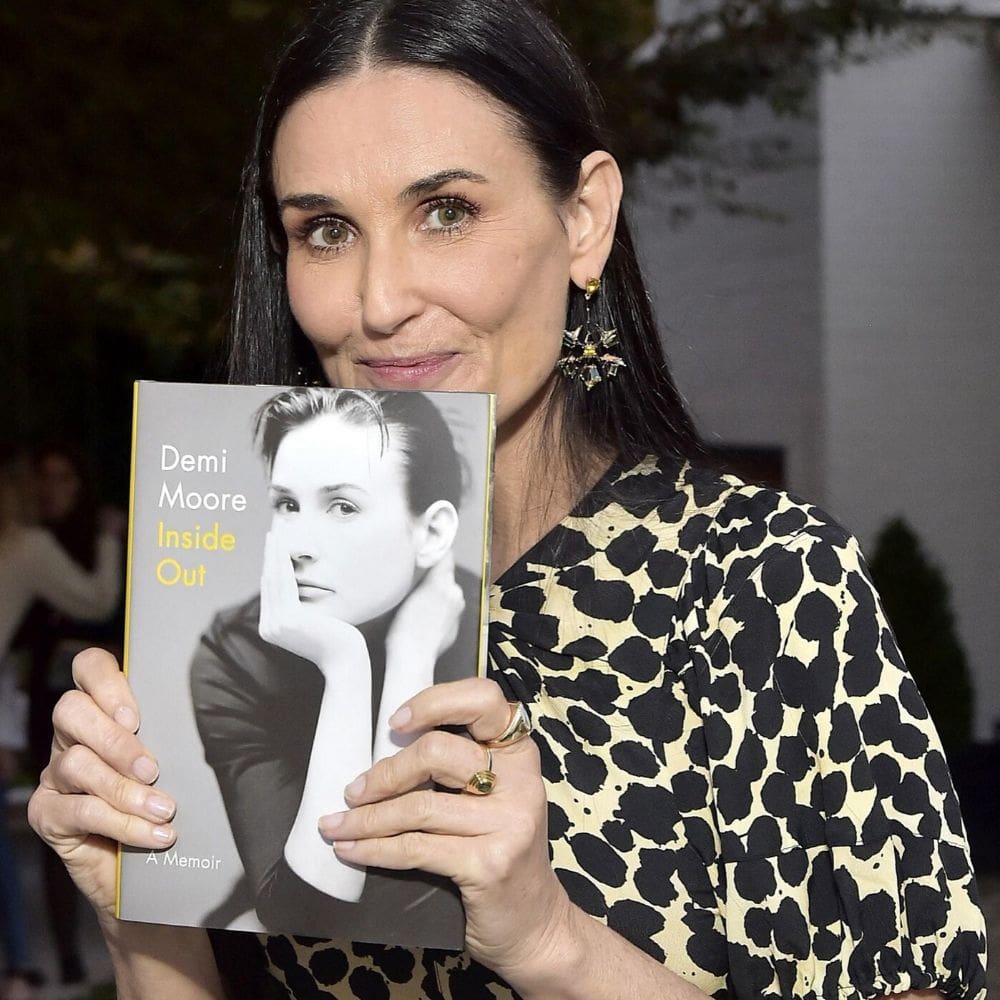 Her ex and his current wife were there to support her. "I was on edge just before doing Jimmy Fallon, and the phone rang, and it was Bruce," she shared in a podcast. "He called to let me know he was proud of me," she continued.
Everyone's Entitled to Their Opinion
Bruce may have been proud of Demi's memoir. However, he is the only ex who was. Ashton was not pleased with the fact that Demi shared intimate moments of their marriage.
Demi discussed what she felt was Ashton's dishonesty about his infidelity. Ashton replied to this statement by tweeting, "I was about to post a very snappy tweet. Then I looked up and saw my children and I erased it."
They Worked Hard for Their Friendship
"I still love Demi. We're very close. And we're probably as close now as we ever were," Bruce said in an interview when asked about his ex. The two have worked hard to stay amicable and built a strong friendship even under the prying eyes of the public.
Demi and Bruce have managed to build a stronger relationship than they had even when they were married, it seems. They have created a close friendship in which they spend holidays and other major events together along with their extended family unit.
Quarantined Together
In the grips of a pandemic, these two can teach us plenty. Bruce and Demi are showing the world how to have an amicable split. Amid the serious situation going on in the world, this couple and their children have decided to quarantine together.
Bruce and Demi are holed up with two of their daughters and their significant others in an LA home. Bruce's wife and other children are spending the time in another home. But Emma wants the world to know they are just fine. So she commented on Instagram, "Family bonding at its best, love and miss you guys."